Miss Piggy, Kermit, the entire 'Muppets' gang and some of the most entertaining celebrity cameos make "The Muppets Most Wanted" another must-see Disney experience. It doesn't matter if you're five, fifteen or fifty years-old, the songs are catchy and the jokes are for everyone. In this ever-changing world that we live in, it is exhilarating to see an institution such as 'The Muppets' be able to come back to the silver screen again and again; each time just as colorful and inventive as the last. Jim Henson first introduced Kermit the Frog in 1955 on WRC-TV's "Sam and Friends." Children and adults followed him through the decades on "The Muppet Show" and "Sesame Street." Today, he is as loved as he was over fifty-years ago; being introduced to new generations. It is thanks to the incredibly creative behind-the-scenes team that Kermit and his friends (both humans and muppets) are back again with another story to tell and hit songs to sing.
Enter, writer/director James Bobin, music supervisor/songwriter Bret McKenzie and producer Todd Lieberman, who have reunited for the sequel to their 2011 movie, "The Muppets." This time around, The Great Gonzo, Animal and the muppets family have gone global in "Muppets Most Wanted." They travel to Berlin, Madrid, Dublin and London after being convinced by a Hollywood agent (Ricky Gervais) to take on a world tour. All unravels when Kermit is framed and sent to prison. Constantine—the World's Number One Criminal, who happens to look exactly like Kermit, despite one mole, replaces the leader of the muppets without anyone knowing. But suspicions surface and the search for the real Kermit begins.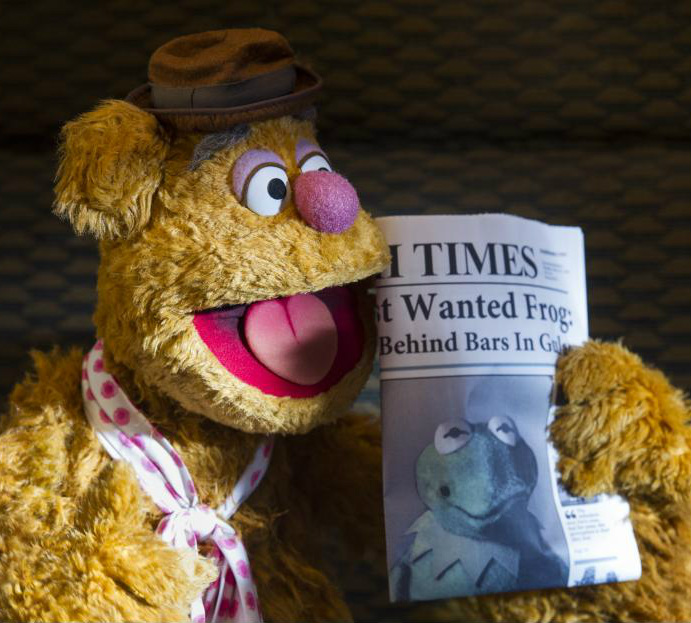 Naturally, each muppet gives a hilarious performance. But as Kermit explained, "I'm stretching myself quite a lot as a dramatic actor in this film." Both Miss Piggy and Kermit hit some tension roadblocks in their romantic relationship, which called for a bit of versatility on the couple's part.

Their human co-stars carried the film right along with them. Ricky Gervais plays Constantine's evil sidekick, Dominic, Tina Fey is Nadya, the feisty prison guard, and Ty Burrell is Sam The Eagle's investigative partner and Interpol agent, Jean Pierre Napoleon. The human/puppet chemistry is priceless. And if you think they're hysterical on-screen, imagine being in the same room with the cast. When asked about taking on a movie musical, Gervais said, "I was okay with singing — the dancing, a bit awkward. A bit embarrassed about that, I don't move well. But I was with a frog so it doesn't matter. I'll do anything with a frog, that's my motto."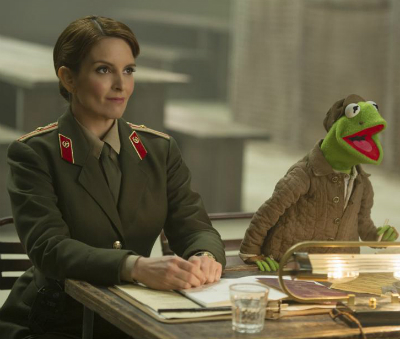 Tina Fey wasn't exactly confident about her singing skills either, "If you've ever seen the movie version of "Oliver" when the little boy sings and you can hear the hiss of how loud they had to turn up the microphone – my singing sounds like that. I think Bret wrote really good songs that made us sound good." Bret Mckenzie, who is best known for his brilliant comedic songwriting from "Flight of the Conchords," admitted he felt a little pressure following up with a sequel after winning the Oscar for Best Original Song for "Man or Puppet." He had nothing to worry about. Audiences will be humming his new melodious tunes long after the ending credits roll. Some of the sequel's memorable songs are "Something So Right," a duet between Miss Piggy and Celine Dion, and the grand opening, "We're Doing A Sequel," with appearances by Lady Gaga and Tony Bennett.
Speaking of celebrity appearances, "Muppets Most Wanted" is a star cameo fun-fest. After reading the cast list, you might think some actors don't quite fit in a muppets movie, but every single cameo works. Ray Liotta, Josh Groban, Christoph Waltz, Jemaine Clement, and my personal favorite, Danny Trejo. It turns out, celebrities wait in line to appear with the world famous muppets.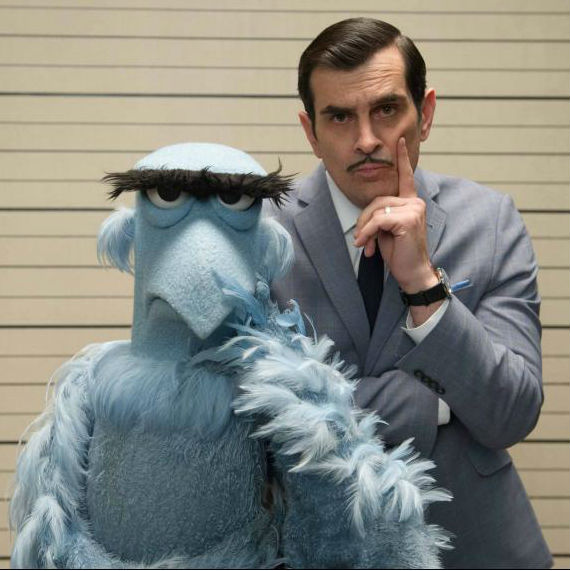 James said, "When Nick (Nicholas Stoller/co-writer) and I write the script we were writing people's names in often. Obviously certain people have to be that person. You can't do the Christoph Waltz joke with anybody else because it's about a 'waltz.'"
Todd added, "We have a list of people who want to be in the movie and then as these guys go through writing the movie we gather other intel of fans, people we like and people that like us." Leave it to Bret to interrupt with something ever so witty, "Intel, meaning just google them. Google 'celebrity' and 'muppets.'"
Todd continued, "Christoph Waltz specifically was one where he was a massive fan of the first movie and really wanted to be a part of this one. But there are so many people who love the muppets. It's an interesting matrix to put together to figure out where people go correctly and how to fit in all the people that love the movie, which hopefully we accomplished."
It was fairly clear that Miss Piggy's favorite celebrity cameo was her idol, Celine Dion. She is someone Miss Piggy admires, although she didn't and couldn't bring herself to admit it. "It was a joy for her (Celine). I'm only too happy to let her ride my coat tails up to the Oscar stage. It was very meaningful to her," Miss Piggy said with her nose up in the air.
It seems that, for all of the hard work that went into making this film, everyone had just as much fun. Todd said, "We had an amazing time on the first film. This movie, for us, was the ability to get a little wilder. Hopefully this movie showcases the wackiness that the muppets embody but also maintaining the heart of the first movie." They did succeed in keeping the heart and soul of the muppets. One can't help but feel a connection to these characters after all of these years.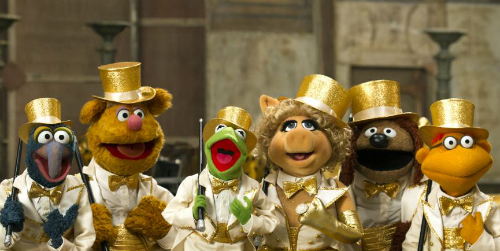 "Muppets Most Wanted" is a movie for all ages. I laugh just as hard at Miss Piggy's stuck-up comments as I did when I was a child. And as an adult, I can now laugh at every joke. James and his team set out to make a story that could appeal to everyone, "It has to be for everybody. I remember watching the muppets in the 70's when my Dad and my grandparents watched it with me and we were all laughing throughout. But I think we we're laughing at different things. For me, it's about multi-layering the story and the jokes on top of visuals, as well as creating something that bares repeat viewing."
Todd said, "From the beginning, we always set out to not make a movie for kids, but to make a movie for everybody that kids also love."
As the sequel hits theaters this weekend, I am sure that families and even couples will go to the movies just to see their favorite muppets. But they will be pleasantly surprised to find entertainment in every performance, from the humans to the fuzzy frogs.
By Pamela Price