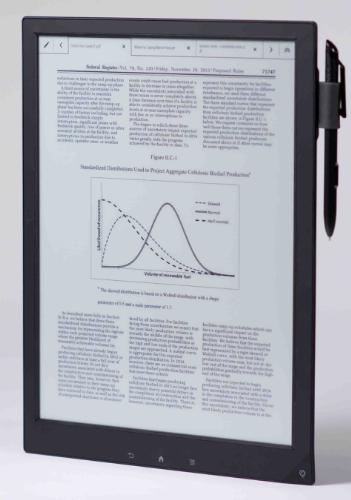 In the eco-friendly culture that we live in, offices are always looking for ways to save paper (aka "save the trees).
Sony is introducing the Digital Paper this May, which is designed to replace the vast amounts of paper that continue to clutter many offices and institutions. Sony's Digital Paper has a 13.3 inch display that shows full-screen views of letter-sized documents in the PDF format, eliminating the need to zoom or scroll when reading a page.
The Digital Paper device retains the context of an entire page by displaying sharp, easy-to-read text and graphics that are nearly identical to printed documents or full-size notepads.  The device's touch panel enables users to operate the menu or turn pages by simply touching the screen. Using the included stylus, professionals can write fluidly and directly on the panel, and also easily highlight and erase text, for a familiar and comfortable writing experience.
According to published research from InfoTrends, as recently as 2011, local, state and federal offices used a yearly volume of 122 billion sheets of paper, an amount equal to roughly 400 sheets for every person in the United States. In other words, we waste a lot of paper. 
Digital Paper is planned to be available in May, initially through a select group of Worldox agents, with a suggested list price of $1,100.  
For more information, please visit www.sony.com/digitalpaper.