Starline Tours has been showing people the sights of Los Angeles for over 70 years, starting with the Movie Stars' Homes Tour in 1935. Over the years, Starline has added many more routes and amenities to their operation and are currently the largest touring company in LA. One added option is the "Hop-on Hop-off Tour," which has become increasingly popular with Starline and currently engages over 300,000 customers a year. The Hop-on Hop-off Tour allows patrons to explore different areas of the city at their leisure, while still being convenient and educational.
The Hop-on Hop-off Tour employs an open-top double decker bus to take tourists around various notable spots all while a recorded narrator gives different factoids about the surroundings over headphones. Riding around and learning about things is pretty much how all tours work, but what makes Hop-on Hop-off unique is right in its name. Riders are able and encouraged to get off the bus at any of the multiple stops and see the sights up close or if they're more interested in something else down the line they can just stay on the bus and continue the tour. So say you want to spend the afternoon shopping on Melrose Avenue or you want to swing through the LA Contemporary Museum of Art, you can spend the time you want at the spots of your choosing and then when you're done "hop-on" another Starline bus on the same route (frequency of arrivals varies per route) and proceed with the tour. This is different from a traditional tour, which may have a regimented time allotted per stop and could leave you stranded in a place you have no interest in or rushing through an area where you'd like to spend more time.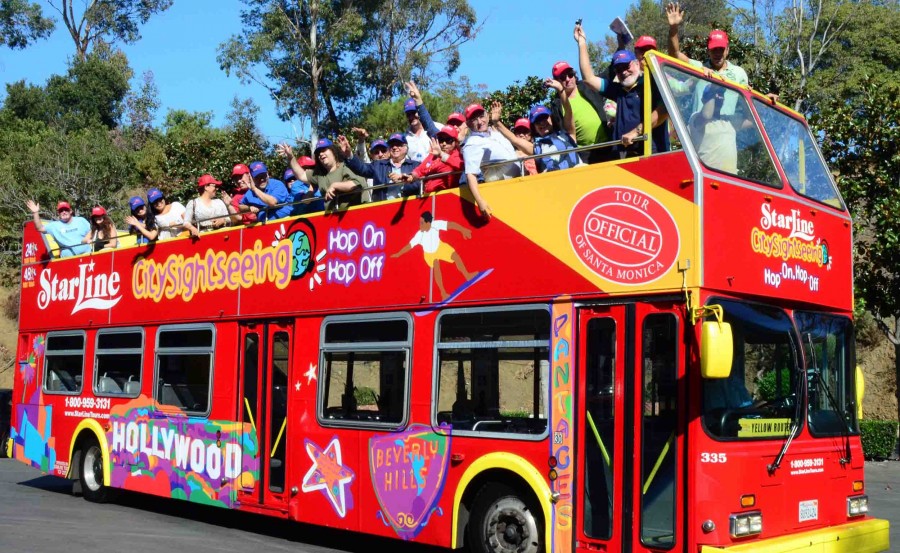 It's impossible for even people who've lived in Los Angeles all of their lives to know everything about their city. The Hop-on Hop-off Tour offers a nice comprehensive summary of the different areas it covers. This could especially be beneficial to people visiting who wouldn't even know where to begin and could be overwhelmed by a city as big as Los Angeles. But even a resident of Los Angeles could learn a thing or two about their city, like which El Pollo Loco Brad Pitt worked at or about the tree motif of Beverly Hills residential streets. This makes the tour a good blend for LA residents who have people visiting from out of town.
The Hop-on Hop-off Tour has various routes spanning the city with connections between routes for those wanting to expand their tour. More information can be found at www.starlinetours.com.
Adrian Vina