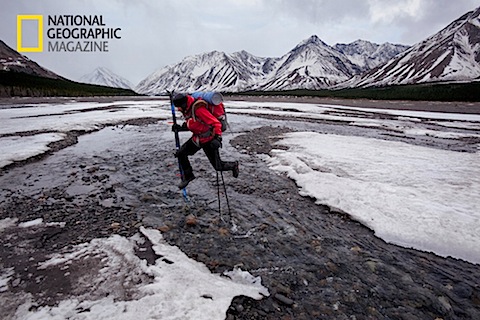 Viewers looking for a chance to test their meddle like the survival and wilderness experts seen on National Geographic Channel's Ultimate Survival Alaska will get their chance with the launch of the Ultimate Survival Alaska Sweepstakes, a multiplatform consumer contest. One lucky winner will get the "ultimate" Alaskan adventure filled with outdoor survival lessons, hiking, fishing and the opportunity to meet some of the cast members featured in the show.
Starting Sunday, Jan. 5, and running 10 weeks to the season finale on Sunday, March 9, fans can enter the sweepstakes online at www.natgeotv.com/winalaska. Each week during a new episode of the series, a unique keyword will be revealed on-screen. Correctly identifying and entering all nine keywords on the sweepstakes' website will make viewers eligible to win a trip to Alaska for them and a guest. The six (6) day, five (5) night trip will be led by Ultimate Survival Alaska cast member Dallas Seavey, the youngest-ever winner of the storied Iditarod race and a member of the series' Endurance Team, with other cast members joining along the way. Possible activities include dog mushing lessons, overnight camping under the stars, a snowshoe walk, cross-country skiing, and survival "MacGyver" tricks and lessons.
Rules and Regulations
No purchase or subscription to cable or satellite television necessary. Sweepstakes begins at 12:00 a.m. ET Sunday, Jan. 5, and ends at 11:59 p.m. ET on Tuesday, March 11. Open only to legal residents of the forty-eight (48) contiguous United States, Alaska, and the District of Columbia, who are 21 years of age or older at the time of entry. To enter or for a copy of the Official Rules, log on to www.natgeotv.com/winalaska. Average value of grand prize: $10,000.00 USD. Odds of winning depend on the number of eligible entries received. Void where prohibited.
About Ultimate Survival Alaska
Four teams. 2,000 miles. The ultimate wilderness. Ultimate Survival Alaska is back for a second season. Go off the grid with 12 survival experts on a 10-leg expedition in the brutal and dangerous Alaska terrain. The opponents' only goal is to make it out alive using just the gear they can carry in their packs. Dropped in the middle of the Alaskan wilderness by bush plane, they have 60 hours to make their way to the finish point for that leg of the expedition. Using raw, mountain-man ingenuity, they'll navigate through treacherous glaciated river valleys, barren ridgelines and high mountain peaks, battling hunger, hostile predators and perilous weather conditions along the way.
For more information visit www.natgeotv.com/survivalalaska.