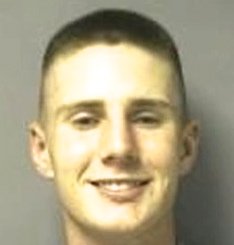 On November 24th, Conrad Alvin Barrett made a video in which he allegedly commented that "the plan is to see if I were to hit a black person, would this be nationally televised?" On Thursday, the 27 year-old Texas native was charged with one count of violating the Matthew Shepard and James Byrd Jr. Hate Crimes Prevention Act.
The U.S. Justice Department call the crime a racially motivated "knockout" assault against an elderly black man. According to CNN, the "knockout game" is an assault in which an assailant aims to knock out an unsuspecting victim with one punch. The federal complaint states that Barrett attacked a 79-year-old man "because of the man's race and color." The victim suffered two jaw fractures and was hospitalized for several days, the complaint said.
According to Barrett's attorney, George Parnham, he could not state whether his client carried out the attack, but, "mental health issues definitely played a part in anything that occurred."
In this day and age, 'mental health' should not be an excuse for committing hate crimes.
U.S. Acting Assistant Attorney General Jocelyn Samuels said Thursday in a Justice Department statement announcing the charge against Barrett. "As always, the Civil Rights Division will work with our federal and state law enforcement partners to ensure that hate crimes are identified and prosecuted, and that justice is done."