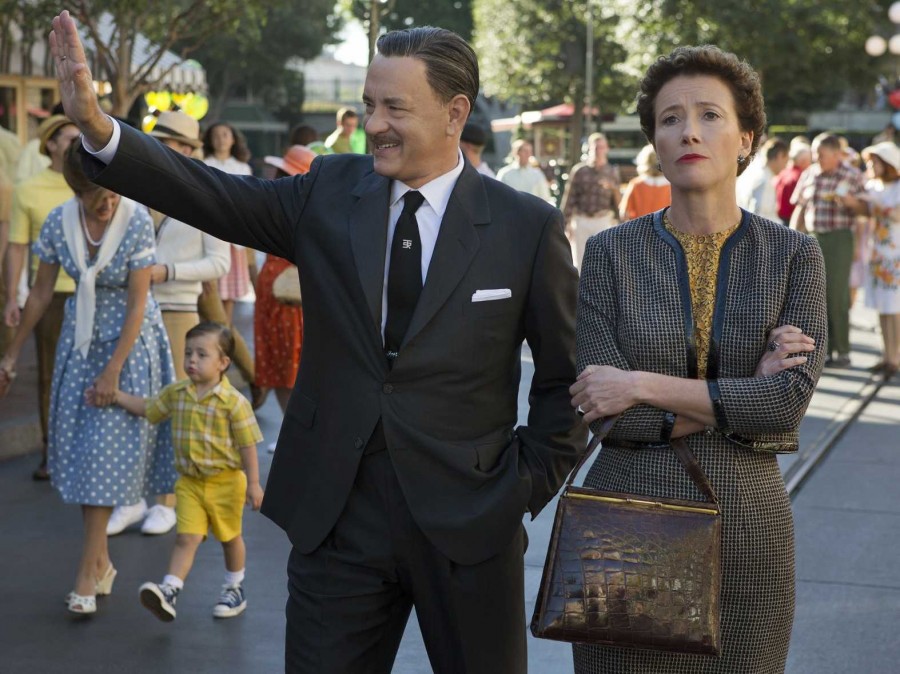 "Mary Poppins" is one of those movies that doesn't need an introduction. It's iconic. A perennial classic if there ever was one. And in 1964, the musical won 5 Oscars when it debuted in theaters across the country. Yet, while almost all of us have seen (or at least heard) of the most famous nanny of all time, few know about the exceedingly difficult author behind the character: P.L. Travers. "Saving Mr. Banks" follows the events in the writer's life as she is flown from her London residence to sunny California in order to meet with Walt Disney (the always genuine Tom Hanks) and hopefully sign away the rights to her beloved children's book. Directed by John Lee Hancock (The Blind Side), the film is by no means a Disney promotional piece, despite being distributed by them. P.L. Travers, played by a wonderful Emma Thompson, is always at the center of the action. The result is thoroughly entertaining, engrossing, and not at all pro-Mickey in any way. Ultimately, there's certainly no need for a spoonful of sugar to make this movie go down. It is plenty sweet already.
The one character that definitely needs a few buckets of sugar to sweeten her up is P.L. Travers or Mrs. Travers as she likes to be called. After supporting roles in recent films like "Beautiful Creatures" and "Men In Black 3," British actor Emma Thompson is finally back in a leading role. Travers is a sourpuss if there ever was one, but somehow Thompson softens her up and makes the audience feel for the middle-aged author. Whether it's a fleeting crack of a smile, or the unlikely bond she forms with her limo driver (Paul Giamatti), Thompson allows the nice side of Travers to bubble to the surface every once in a while. Most of the time, however, she is as ornery as ever.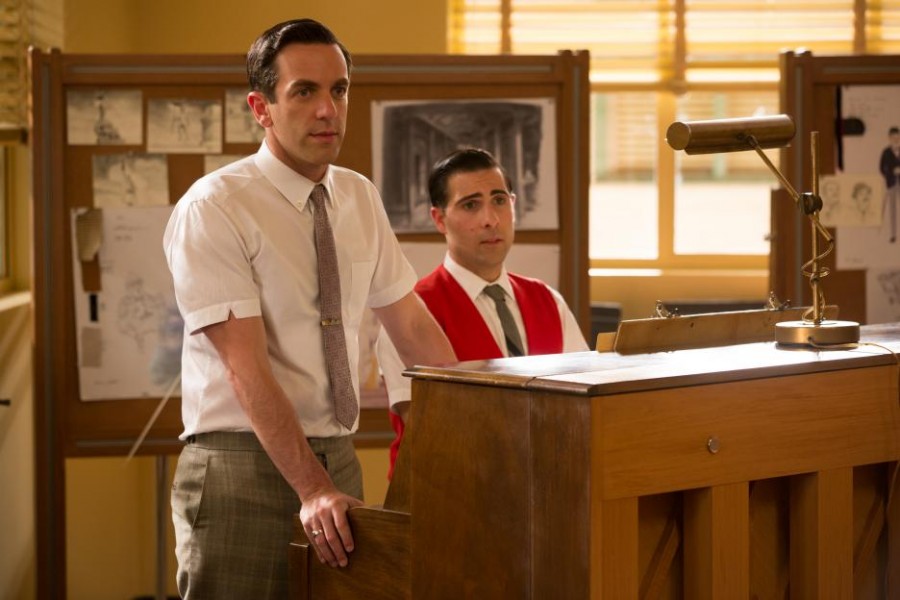 While Thompson is indeed fantastic in the role, a lot of this audience sympathy for her character is motivated by repeated flashbacks to a childhood Travers (Annie Rose Buckley) growing up in rural Australia. In a time before television and computers, young P.L.'s imagination was kept occupied by her loving father, played with sincerity by Colin Farrell. Travers Goff means the world to the young P.L., but that still doesn't make him a good person. Ruled by alcohol, Travers repeatedly loses his job and ultimately loses himself in whiskey and beer.
As we shift back and forth between P.L.'s humble beginnings to the opulence of her time spent in Los Angeles, the reason why she is so tightly bound to the rights to her book become clear. The novel represents her childhood, and she has yet to come to grips with everything that happened — especially with her father.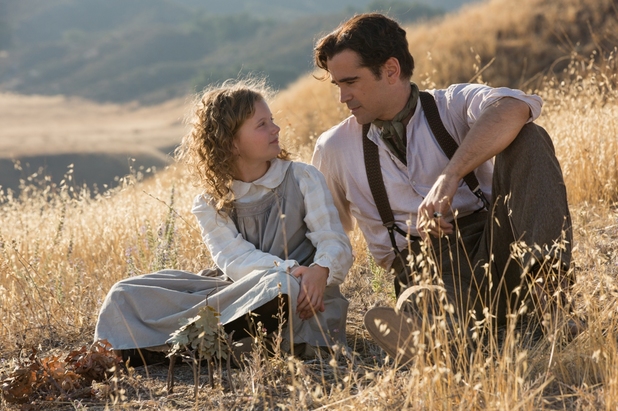 Walt Disney, however, does his best to convince Travers that he shares in her vision. This is the first time Walt Disney has ever been portrayed on film, and Tom Hanks couldn't have done it better. Hanks, despite his slightly rounder cheeks, nonetheless looks surprisingly similar to the man responsible for Mickey Mouse. He also picks up the visionary's accent and cadence of speech exceedingly well too.
Joining Disney in his attempt to cajole Travers into signing away "Mary Poppins" are the original film's key crew members: screenwriter Don DaGradi (Bradley Whitford), songwriter Robert Sherman (B.J. Novak), and composer Richard Sherman (Jason Shwartzman). All three co-stars perfectly capture the essence of what working with a person like P.L. Travers must have been like. In one particular scene, very early on, Don DaGradi attempts to read Travers his draft of the "Mary Poppins" script. This seemingly simple task is immediately derailed after Travers gets hung up on the very first scene heading. Going along with it as best they can, it doesn't take long for all three Hollywood professionals to begin to second guess signing up for the project.
These pre-production script writing scenes also allow the audience to hear many of the final "Mary Poppins" musical numbers take form. With Don, Robert, Richard, and even Walt Disney joining in at times, the creative minds behind "Let's Go Fly A Kite" and "Fidelity Fiduciary Bank" tirelessly perform song after song for Travers, who still doesn't want to see her book turned into a musical. Fans expecting to see the production side of making "Mary Poppins" will come away empty-handed. In a premiere night sequence, a few clips are played from the finished project, but screenwriters Kelly Marcel (Terra Nova) and Sue Smith (Mabo) never touch on that side of the story. This omission does not take away from the end result at all, however. Both writers add a hilarious wit to the plot, and truly bring the pages of history to life.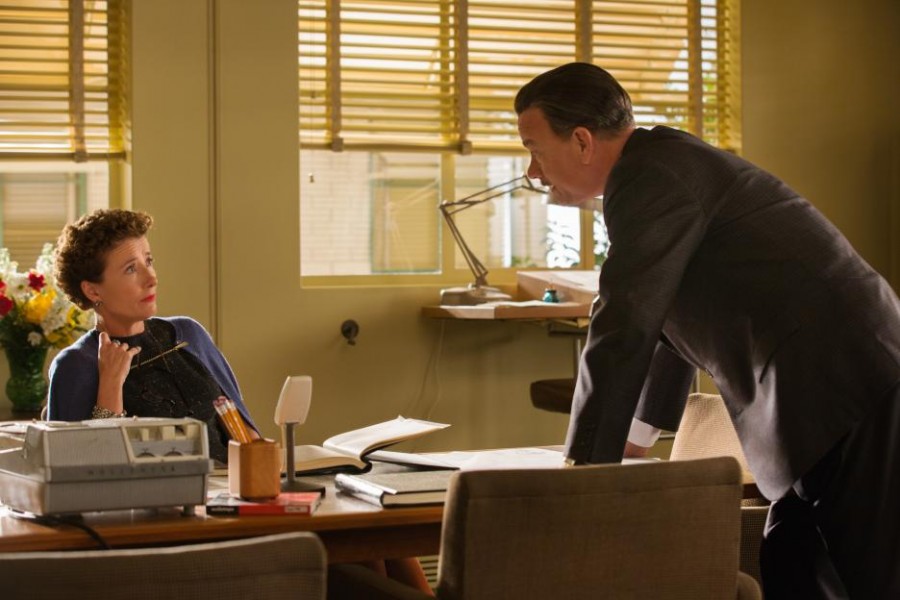 Despite its PG-13 rating, "Saving Mr. Banks" is the perfect family film to celebrate over the holiday season. Without the violence, foul language, and sexual content that are the focus of most movies with that rating, John Lee Hancock delivers a dramatic tale that will appeal to both parents and children alike. He also gives the film an artistic touch, especially in the many flashback scenes, that will make Academy voters turn their head come voting season.
Rated PG-13 for thematic elements including some unsettling images
By David Morris