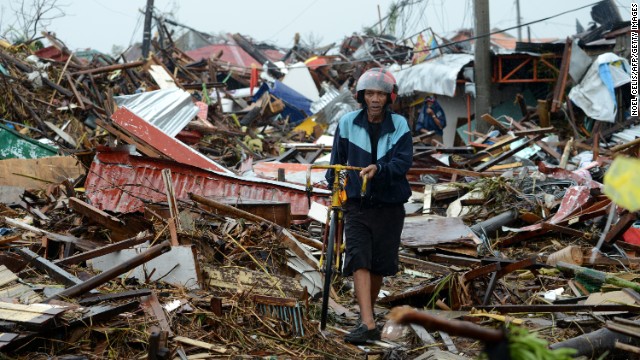 Photo Courtesy of Getty Images
The aftermath of typhoon Haiyan is so much worse than anyone could have expected. Tacloban Mayor Alfred Romualdez told CNN it is "entirely possible" that 10,000 people may have died in the storm in Leyte province. He continued to describe the conditions as "worse than hell."
In many parts where the storm hit there is no electricity, food, water and buildings are down to rubble with bodies scattered.
Hospitals are running low on supplies and thousands are seeking food and shelter. Many of the people in the city with a population of 200,000, are angry at the authorities' slow response to the disaster.
If you would like to lend a hand to the victims of this horrific natural disaster, please contact one of the following:
UNICEF is taking donations to help provide children with shelter, clean water, nutrition and vaccines.
World Food Programme (WFP), a United Nations organization, said it will send more than 40 tons of high energy biscuits and work with the Filipino government to help with logistics and emergency communications systems. Representatives said they have allocated $2 million for the disaster response and officials joined an assessment mission to survey damage in Leyte and Samar provinces. It asks for donations at www.wfpusa.org or by texting the word AID to 27722 to instantly donate $10.