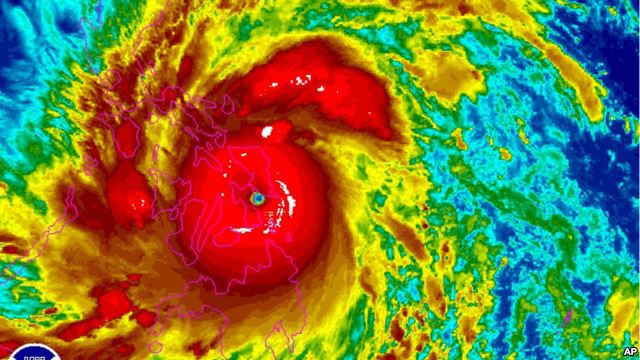 Photo Courtesy of AP – Shows Cyclone Over Philippines
Meteorologists are calling it possibly the strongest tropical cyclone of the year or even the most threatening cyclone ever. Category 5 Typhoon Haiyan slammed over the Philippines on Friday with pounding rain and winds approaching 200 mph near the coast. President Benigno Aquino ordered mass evacuations to reduce the risk of disaster. According to the AP, "close to 720,000 people had been evacuated from towns and villages in the typhoon's path across the central Philippines, the National Disaster Risk Reduction and Management Council said." Reports say this cyclone will have a surge 4-5 times stronger than Hurricane Sandy.

In the Philippines, they're calling it Super Typhoon Yolanda. Haiyan is the name given to it by the World Meteorological Organization and is the Chinese name for "petrel," a type of seabird. Some oceanside communities have been left under 10 feet of water. All roads where the Typhoon hit are now impassable. Across the country, people are being warned and evacuated.
Only just three weeks ago, an earthquake had hit the same bulls-eye where Haiyan stormed over. Four people have been reported dead. Southern Leyte Gov. Roger Mercado said 31,000 people were evacuated in his landslide-prone mountainous province before the super typhoon struck, knocking out power, setting off small landslides that blocked roads in rural areas, uprooting trees and ripping roofs off houses around his residence.
As the storm roars through, citizens inland prepare for possible mass destruction.