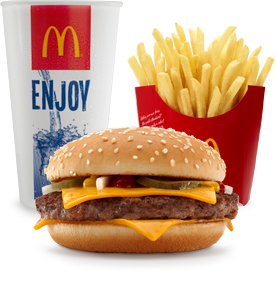 In honor of National Fast Food Day, be sure to get French fries from Burger King a big mac from McDonald's and a milkshake from Wendy's. One of our favorite fast food joints is, of course, McDonald's… so here are a few fun facts that might make your jaw drop.
1. McDonald's sells around 13 billion servings of fries each year.
2. Antarctica is the only continent without a McDonald's food chain.
3. McDonald's employs over 1.8 million people all around the world. That's more than the population of Philadelphia.
4. McDonald's sells more than 75 burgers every second.
5. The golden arches are supposedly more recognizable to the public eye than the religious cross.