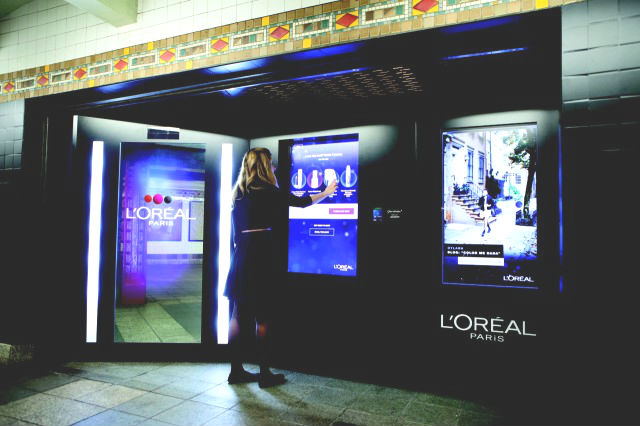 Photo Courtesy of L'Oreal Paris
Did you forget your lipstick while rushing to get to work? L'Oreal has taken to the Subways of New York City – perhaps a new set up that will save some women's make-up worries on a hurried weekday morning. From November 4th until the end of December, subway goers passing through the 42nd Street/Bryant Park station will find L'Oreal's Intelligent Color Experience, an interactive vending machine system, which features a full-length mirror and a high-tech machine full of beauty products.
The machines feature various eye, lip, and nail products from L'Oréal's Colour Riche collection as well as the brand's newly launched Voluminous Butterfly mascara.
"The MTA is very pleased to see a brand like L'Oréal Paris out in front of emerging virtual shopping trends that promise to blur the lines between traditional outdoor advertising, traditional brick and mortar retail and e-tailing," Jeffrey Rosen, the MTA Director of Real Estate, said in a statement. "The MTA and our advertising contractor, CBS Outdoor, will be watching this program closely to see if it can be replicated and scaled up within the MTA network. As the advertising industry continues to test and demonstrate new ways to reach consumers in high traffic environments, we're happy to facilitate such experimentation within our system."