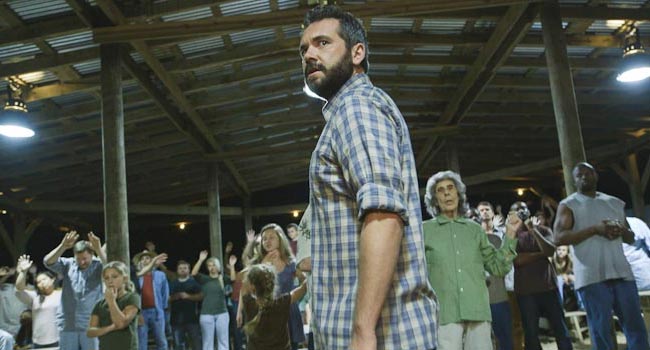 With motion pictures like "The Roost" and "Trigger Man," filmmaker Ti West established himself as the next big thing in the horror genre. A few years later, his "The House of The Devil" and The Innkeepers" proved that the writer, director, editor extraordinaire could take classical 1970s scare tactics and reinvent them for a modern audience. But with his latest movie offering, West demonstrates that he can rise way above hellish gore tactics. The result is a disturbingly thrilling project called "The Sacrament."
More horrifying than horrific, "The Sacrament" reimagines the Jonestown mass murder and updates it for our tech driven modern world. Shot documentary style, it is a film so deep, so creative, and so thought provoking, all of the subsequent bloody violence seems like an added bonus.
The narrative is set in motion after Patrick (Kentucker Audley)—a NYC based photographer—approaches VICE magazine after he gets one of the world's weirdest letters from his once drug-addicted sister Caroline (Amy Seimetz). The edgy publication decides to investigate, and with the help of editor Sam (AJ Bowen) and cameraman Jake (Joe Swanberg), the three guys travel to an isolated sober-living community in the backwoods of Mississippi. What the three friends find is truly befuddling. They discover a completely self-sustaining town complete with a modern hospital and a guaranteed fresh start for anyone that wishes to join.
While the three city slickers would never live in a tech free world, they cannot help but think that this "Eden Parish"—as it is called—might actually live up to its name. Yet, there is no denying the strange nature of its many armed guards. And there is definitely no questioning the brainwashing effects its lovingly nicknamed leader Father (Gene Jones) has on all of his followers. As Patrick and company dig deeper into the community, its real, sinister nature begins to rise to the surface.
West has a certain click of actors and filmmakers he constantly uses in his movies, and "The Sacrament" is no departure from this concept. Joe Swanberg, who was last seen with the filmmaker in this summer's slasher flick "You're Next," easily slides into the role of cameraman Jake. Swanberg is—first and foremost—a director, so this character isn't much of a departure from his actual personality. He effortlessly plays the part, and because we watch most of the action through the camcorder that he is holding, the audience cannot help but feel even more emotionally attached to his overall safety.
For co-star AJ Bowen, his Sam was specifically written with the actor in mind. Sam is thoughtful, sensitive, and modest—three characteristics that punctuate the majority of the actor's work. West plays into these strengths and crafts a character that we find ourselves innately attracted to because he just seems like such a nice guy. From the way he looks at his wife's pictures on Facebook to how he sweetly handles a mute girl he comes across at the parish, Sam is—simply put—a good person.
Gene Jones, who plays Father in the film, is a first time West collaborator. The relatively unknown actor most recognizable for small cameos in "No Country For Old Men" and the TV show "Louie" truly brings the movie to an entirely new level, however. With a pair of aviator glasses forever glued to his face, the actor looks a lot like Colonel Sanders if he was possessed by Satan. What makes him even scarier, though, is that no one else sees him as being a psychopath. His parish of followers worship his every movement. In a scene where Sam sits down and interviews him in front of the entire community, he speaks of his cult as being warless, race less, and peaceful. His words are eloquent yet poisonous and are all together delivered with an authority that will surely garner Jones with plenty of attention for future roles.
"The Sacrament" looks and feels like an actual documentary. It uses a real periodical as its narrative backdrop, and presents a Jonestown style situation that shows both sides of the spectrum. While the audience cannot help see the terror of a cult like this, they are also afforded ample opportunity to learn the perfectly plausible reasons why people would sign up to be a part of Father's community. West's complex film delves into hot button topics like modern religion, capitalism, imperialism, and what it means to be an American all while maintaining the look and feel of a simple horror genre picture. Groupthink has never been so disturbing and so electrifying to watch. So go ahead and pour me a big glass of that Cool Aid because I'm dying to see this picture again.
"The Sacrament" premiered during the AFI Fest in Hollywood California on November 9th as part of the Midnight section of the festival. It was screened to a completely sold out crowd and will be shown again on Monday, November 11th at 10:30 PM in the Chinese 6 theaters. For tickets, head to afifest.afi.com.
AFI FEST presented by Audi is a celebration of global cinema and today's Hollywood – a showcase for the best festival films of the year and an opportunity for master filmmakers and emerging artists to come together with audiences in the movie capital of the world. AFI FEST is the only festival of its stature that is free to the public.
By David Morris