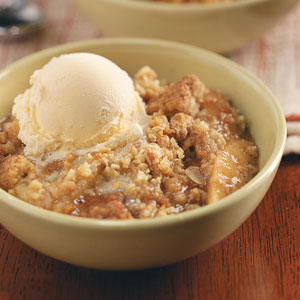 In light of National Apple Betty Day and the crisp cool Fall breeze… here's a scrumptious recipe to warm your taste buds:
4 cups thinly sliced apples
1/4 cup orange juice
3/4 cup all-purpose flour
1 cup white sugar
1/2 teaspoon ground cinnamon
1/4 teaspoon ground nutmeg
1/2 cup butter
Preheat oven to 375 degrees F (190 degrees C). Lightly grease a 9 inch pie plate.

Mound sliced apples in the pie plate. Sprinkle with orange juice.

In a medium bowl, mix the flour, sugar, cinnamon, nutmeg, and salt. Cut in butter until the mixture resembles coarse crumbs. Scatter over the apples.

Bake in preheated oven for 45 minutes. Serve warm.