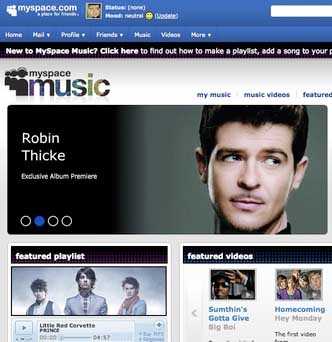 Remember when Myspace was relevant? Sometime back in the early 2000's. Since they revamped the site, many had doubts. It certainly wouldn't rise above Facebook and Twitter, but Myspace seems to be working again over a decade later. It's not your average social media, public news feed – but more for music now. Perhaps the success has something to do with Justin Timberlake being part owner. And, let's face it – he's everywhere with campaigning his new album and movie. But Myspace still stands on its own. The entirely new platform, which launched in June, saw its audience grow from 24 million prior to launch to 31 million in its first two weeks out of beta. The platform has continued to grow steadily throughout the summer and, today, sees 36 million people.
According to the internal report, two key communities are driving the majority of the growth: millennials and artists.
Given its heritage in music, the majority of the artist community on Myspace is comprised of musicians. The site's completely redesigned, open-canvas styling also makes Myspace perfect for visual artists, such as photographers and designers, who comprise the second-most popular type of artist on the site.
Myspace attributes much of this early success to its decision to build out its content offering, partnering with premiere outlets, artists, and brands to develop and launch multiple franchises and a full slate of programming, including CRWN Presented by Myspace ( Drake , Macklemore ), Live At The Log Cabin Series ( Run The Jewels , The 1975 ), and Music Video Collaborations With Artists We Like ( TV On The Radio ).