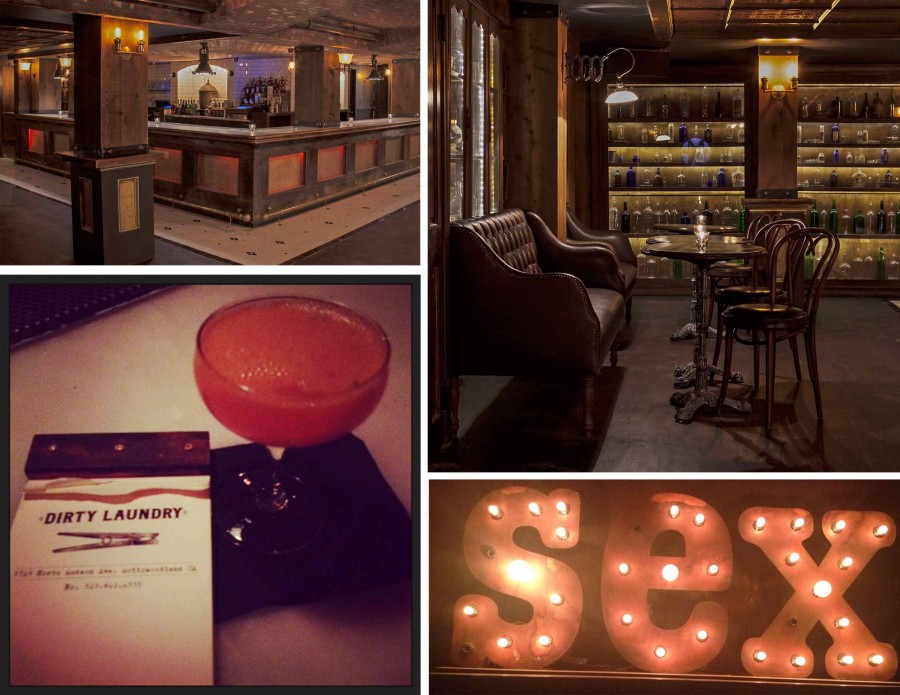 There is a resurgence in Hollywood nightlife in the form of retro bars – also known as the Speakeasy. What was once a term for establishments that illegally served alcohol during the Prohibition era from 1920 to 1933… is now a trendy name for a bar style that transports you to the feeling of another time. Owners of Houston Hospitality, Mark and Jonnie Houston have successfully conquered opening 'the go to' nightlife venues around Hollywood. While it's safe to say that the majority of their patrons are 'hipsters,' that doesn't make your experience at any one of their bars any less entertaining. On October 9th, the Houston's opened Dirty Laundry on Hudson and Hollywood Blvd. Conveniently located next to their sister location, No Vacancy – Dirty Laundry feels a level more exclusive.
Past the bouncer, down a dark flight of stairs is a door with several buttons and written names. These serve as entry passwords. On any given night, you can find them on DL's social media or by calling reservations. We buzzed the VALENTINO button and entered into a dimly lit maze of dark wooden interior rooms, a center bar, brasserie cafe tables, glass cabinets of old apothecary bottles and hanging Edison bulbs. Perhaps the most vibrant decor in the bar is a light sign, which spells out SEX.
Cocktails here are a modern day twist on the most prominent classics.  Drawing from the exuberance and the decadence of the golden era, they mix vibrant and fresh ingredients with modern techniques and flare. Infused spirits, house made syrups, one-of-a-kind tinctures and bitters will transform the traditional bar favorites into instant classics. I had one of the best cocktails I've tasted in a long time: The Juice Joint, a sort of carrot puree, if you will. A part from the bar and the back DJ room, guests can also have an intimate experience in the Valentino room with its own private bar and plush seating.  
Each week DL will have DJ nights with special guest DJ's making surprise appearances.
Dirty Laundry is a nighttime adventure. A must. Just make sure you follow the Laundry List aka House Rules. Oh, and don't try to use your phone, this secret escape has no reception.   
Reviewed by Pamela Price

Twitter- @DirtyLaundryBar
https://www.facebook.com/DirtyLaundryBar
Instagram- DirtyLaundryBar
323-462-6531
1725 N Hudson Ave Hollywoodland, Ca 90028