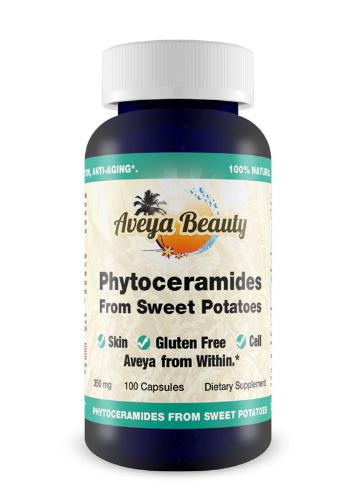 We're always looking for ways to keep from aging. Or at least, keep from looking older than we actually are. Aveya Beauty may have the answer. They  announced the release of an all-natural, age-defying supplement for restoring shine and vitality to the skin. Phytoceramides work from the inside out to restore skin's natural strength, without the need for artificial, chemical additives. Made from rice and sweet potato, Phytoceramides are also gluten free, an important benefit for those with wheat allergies.
"Our new product will certainly encourage some admiring compliments from friends and family; everyone will want to know the secret to such fantastic skin," remarked Aveya Beauty President, Darren Miller. "The power of plant-based Phytoceramides to reduce the visible signs of aging is truly remarkable. Plus, our gluten-free formula means that those with allergies and food restriction need not worry. This product is completely safe and proven effective."
Phytoceramides are a plant-derived form of ceramide, a waxy molecule found in the outer layers of skin, specifically within the cell membranes of the epidermis. These molecules help maintain healthy skin by protecting against moisture loss. As people age, their production of these important compounds trails off; many diets do not provide enough of the right nutrients to replace lost ceramide. Aveya Beauty has developed an effortless solution to this all-too-common problem.
Aveya Beauty urges consumers to consider natural alternatives like Phytoceramides before going under the knife.
Dr. Oz has weighed in on the anti-aging benefits of these naturally occurring organic compounds, describing them as a way to "fake a face lift."
Each capsule of Phytoceramides contains 350 mg of active ingredient, and unlike competitor products, Aveya Beauty supplements come in a convenient 90-day supply. Customers won't have the annoyance of re-ordering a supplement every month or running out unexpectedly. The company is so convinced that new users will be completely satisfied with Phytoceramides that they're offering a 100 percent money back guarantee on every purchase.
In addition to being safe for those with gluten intolerance, Phytoceramides is FDA approved. Aveya Beauty product orders are fulfilled by Amazon; shipping anywhere in the US is fast and convenient. For a limited time, the company is offering over 40% off the usual price on Phytoceramides. The complete list of Aveya Beauty products for sale on Amazon is available here.
A consumer guide to choosing the right Phytoceramides product is also available at the following link: http://aveyabeauty.com/free-gift/warning2/