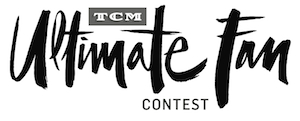 As Turner Classic Movies (TCM) celebrates its 20th year as a leading authority in classic film, the network is launching TCM's Ultimate Fan Contest. TCM is calling for fans to submit videos of themselves introducing a favorite movie, much in the same way TCM hosts Robert Osborne and Ben Mankiewicz introduce films on TCM. One entrant will then be chosen to win a trip to the 2014 TCM Classic Film Festival and the chance to introduce a movie at the festival and co-host a film on-air.
TCM's Ultimate Fan Contest is one of several initiatives being rolled out during the buildup to TCM's 20th anniversary, which will take place in conjunction with 2014 TCM Classic Film Festival in April. "The biggest factor driving TCM's success over the past 20 years is the passion our fans have for classic film," said Jeff Gregor, general manager of Turner Classic Movies and chief marketing officer of TCM, TNT and TBS. "Through TCM's Ultimate Fan Contest, we're giving one member of the TCM community the chance to share his/her devotion to classic movies in a big way."
Fans who wish to participate in TCM's Ultimate Fan Contest should create a 90-second introduction to a classic film of their choice. Fans can create an introduction for a movie they've never seen before, or a beloved classic that can be introduced in a new way. Fans submitting videos are encouraged to be creative, informative and have some fun as they take on the role of a TCM host. 
In order to be considered for TCM's Ultimate Fan Contest, videos must be submitted through online via http://fancontest.tcm.com between Oct. 1 and Oct. 31, 2013. Complete rules for the contest and detailed instructions regarding videos are included on the website, as well.
After the submission period closes, one winner chosen from eligible submissions will get the opportunity to co-host a film on-air with Robert Osborne and introduce a film at the 2014 TCM Classic Film Festival in Hollywood. Also included in the prize package is a trip for two to Hollywood for the festival, plus accommodations, a pair of festival passes and more.