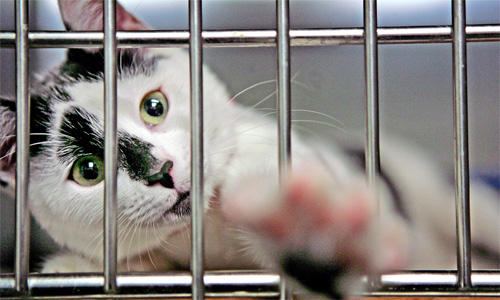 Shelter Me, an organization that advocates for shelter pets, has designated September as Visit an Animal Shelter Month.
The goal is to get more people to visit their local shelters and to let them know simple ways to help improve the lives of shelter pets. 
"Animal shelters need our help," says Steven Latham, the producer and director of the Shelter Me TV series. "Public animal shelters are a part of our communities. People can donate supplies, volunteer, adopt, foster and spend time with the pets. Every little bit helps."
Here are ways people can help their local shelters:
You don't need to go to the shelter just to adopt. Don't let fear or misconceptions stop you from going. Even if you already have pets or can't have a pet, your help is still needed. Find out where your local shelter is and just stop by and have a look around.
When you visit your shelter, ask what they need donated. Many shelters need blankets, towels, newspapers, cleaning supplies, toys, food, gift cards and money.
Spend time with a pet. Having a dog or cat in a play area is so beneficial. The pet gets some exercise and interaction and becomes less stressed. This helps when other people visit and are considering adopting.
Make a profile of a pet on ShelterMe.com. This site lets anyone upload photos and video of a shelter pet to help them get adopted. It's a great family activity. If you already have pets you can still help by making a profile and sharing the link. Taking great photos and posting them on social media sites with information about the pet lets people know that they're at the shelter.
Have a child's birthday party at the shelter. This is a great way for kids to interact with pets, learn and do fun activities.
Enter the Shelter Me Video Contest: Contest.ShelterMe.com. People can submit videos about shelter pets and win

$10,000

in cash prizes.
Consider fostering. A lot of the animals would benefit from a temporary home. Discuss with your local shelter how you can bring a pet home while looking for a permanent situation.
The shelters need more volunteers. It's an incredibly important and rewarding thing to do. You can walk, bathe and train dogs and offer your professional skills.
Request a DVD of the Shelter Me films to show at your local shelter. These events bring more people to the shelter. Please contact: info@ShelterMe.com
Bring a friend who has never been to a shelter or visit another nearby shelter. Contact schools and organizations like Boy Scouts and Girl Scouts to organize field trips.
The pets at our shelters are waiting for new homes. Adopting a shelter pet is one of the best things you will ever do.