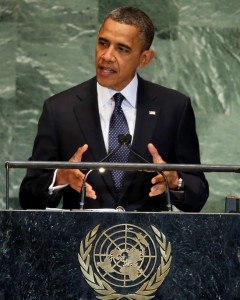 Word from the White House: President Obama will not meet with Iranian President Hassan Rouhani because things have grown far "too complicated." During his address before the United Nations General Assembly on Tuesday, Obama called upon the U.N. Security Council members to stand behind a resolution that would mandate consequences for Syria if it fails to cooperate with a plan to turn its chemical weapons stockpiles over to the international community.
Obama admits that the conflict with Iran over its nuclear program cannot be solved overnight. He said he sees an opportunity to take a "major step down a long road toward a different relationship." – The roadblocks may prove to be too great, but I firmly believe that the diplomatic path must be tested," he continued.
In addition to focusing on U.S. policy toward the Middle East and North Africa, Obama referred to the United States as "exceptional" and defended its role in shaping international affairs. According to USA Today, the reference appeared to be a rebuke of Putin, who chastised Obama in a New York Times commentary last week for citing American exceptionalism in making his case to the American public earlier this month to support military action against Syria if it doesn't give up its chemical stockpile.