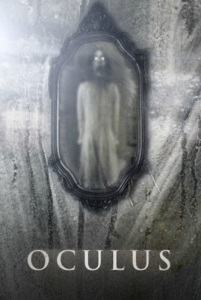 Relativity and Jason Blum's Blumhouse Productions scared away all other potential buyers earlier today and have partnered to acquire "Oculus" at the Toronto Film Festival. The Mike Flanagan horror film debuted late Sunday night during the Midnight Madness section of the festival.
According to Deadline, Relativity plans a US wide release in the near future.
"Oculus" tells the story of two siblings who witnessed their parents' deadly descent into madness and murder while they were children. Now fully grown adults, the brother and sister reunite to destroy the wicked supernatural entity they believe is responsible for their parents' deaths. 
Flanagan and Jeff Howard wrote the screenplay, and it stars Karen Gillan, Brenton Thwaits and Katee Sackhoff.
By David Morris