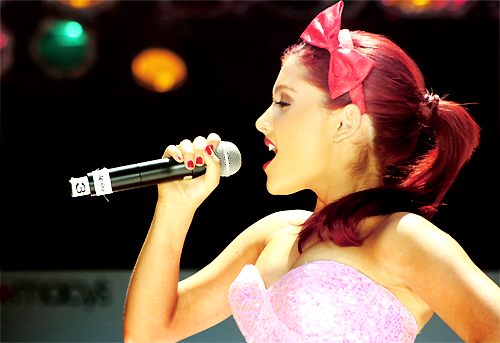 Nickelodeon announced today the launch of Nick Radio, where listeners will get "All the Hits, All the Slime," on iHeartRadio — Clear Channel's industry-leading digital radio platform.  Nick Radio will feature today's hit music; guest DJ stints by Nickelodeon stars, kicking off with Sam & Cat star Ariana Grande, Big Time Rush and Austin Mahone; and Nick-branded entertainment and celebrity interviews, all which will reflect Nickelodeon's personality and surprise-filled brand of humor.  The brand-new family-targeted station will be programmed by Sharon Dastur, Program Director for the world-famous Z100 — New York's Hit Music Station, and will stream on Nick.com, iHeartRadio.com and the iHeartRadio digital app.  Additionally, Relativity and Reel FX's Free Birds, which hits theaters nationwide November 1, has signed on as Nick Radio's exclusive launch partner.
Rising pop music sensation and co-star of Nickelodeon's hit live-action series Sam & Cat, Ariana Grande, will take over Nick Radio as guest DJ during the station's first day, playing a selection of the current hits she loves most.  Joining her as guest DJs for Nick Radio's debut will also be Austin Mahone and Big Time Rush.  Post-launch, Nick Radio will also feature guest DJ stints by Nick Cannon, Cody Simpson and Jennette McCurdy, co-star of Sam & Cat.
Nick Radio will feature some of the most popular DJs in America including Mo' Bounce of New York's hit music station Z100, Maxwell of Q102 Philadelphia, and Wendy Wild of 103.5 KTU , the beat of New York, who will host the station's three dayparts, with Z100's Erica America on weekends.  Nickelodeon will roll out additional programming, showcasing the network's talent and content, including:
·         On the Set With…– featuring interviews with Nickelodeon's live-action stars from the sets of their hit shows.
·         Nick Radio Top 10 Countdown – a radio version of the weekly top ten video show that airs on TeenNick, Nick's 24-hour digital channel for and about teens.
·         Nick Radio Dance Party – hosted by Nickelodeon's own J. Boogie, this two-hour mix of the best in Top 40 music will air every Friday and Saturday night to get listeners up on their feet and dancing.
·         Nick Radio Top 10 – a daily hour-long countdown of the most popular songs on the airwaves.
·         Hangin' With… – celebrity interviews with some of the biggest music, TV, film and sports stars.
Additionally, on October 24, Nickelodeon and iHeartRadio will celebrate the new Nick Radio station with an event at the iHeartRadio Theatre presented by P.C. Richard & Son in New York City, featuring live performances by Syco Music and Epic Records recording artists Fifth Harmony and Atlantic Records recording artist Cody Simpson.  Fans can enter for a chance to win tickets by listening to Z100, 103.5 WKTU and 106.7 Lite fm and listeners who follow iHeartRadio on Twitter or Facebook will also have a chance to win tickets to the exclusive Nick Radio event on October 24.  A live stream of the event will be available through iHeartRadio.com.