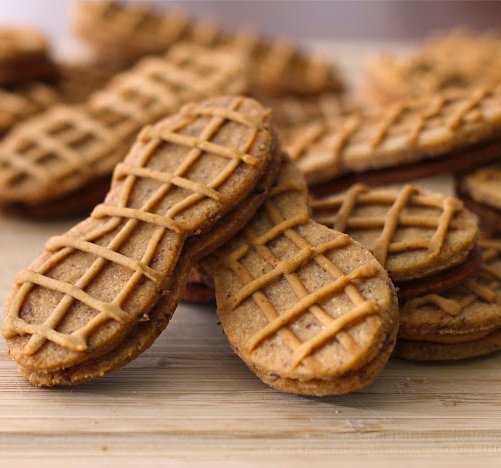 Of course, this is not for those with a peanut allergy – but we'll think of you when we eat our delicious homemade NUTTER BUTTERS. Here's a sweet recipe from www.foodiefiasco.com.
Ingredients for cookies:
2 Tablespoons peanut butter (I used and calculated the calories with Better n' Peanut Butter.)
5 Tablespoons almond milk, divided
4 Tablespoons coconut flour
1/4 teaspoon baking powder
1/8 teaspoon salt
1/2 teaspoon vanilla extract
sweetener (I used two packets of stevia.)
Ingredients for filling:
1 Tablespoon peanut flour (I bet peanut butter would work, but I haven't tried it.)
2 Tablespoons almond milk
sweetener (I used 1/2 packet stevia.)
Preheat oven to 350F.
To prepare the filling, stir together the peanut flour and 2 Tablespoons almond milk and microwave for 45 seconds to a minute. Stir, sweeten to taste, and stick in it in the freezer.
To prepare the cookies, combine the peanut butter and 3 Tablespoons of almond milk in a microwave-safe bowl and nuke for a minute to a minute and 30 seconds or until thick and creamy and stir. Add in coconut flour, baking powder, salt, and vanilla until thoroughly incorporated, Stir in remaining 2 Tablespoons of almond milk 1 Tablespoon at a time, stopping when you reach a cookie dough consistency. Sweeten to taste.
Drop the dough by teaspoonful onto a parchment-lined baking sheet and form into Nutter Butter shapes. (See the graphic below)
Now bake the shaoed dough in the oven at 350F for 10 minutes, and let cool completely before frosting. Meanwhile, fetch the filling from the freezer, stir, and return to the freezer. Once the cookies are done cooling, spread the filling on one of the cookies and place another cookie on top to form a cookie sandwich, but don't press too hard as to press all the filling out. Repeat with the remaining cookies.