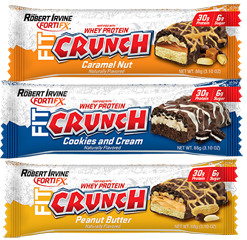 Celebrity Chef Robert Irvine, recognized for his culinary career and hit TV shows on the Food Network®, along with nutritional products brand FortiFX, is pleased to announce the debut of a new, signature line of six-layer baked meal replacement bars – FIT CRUNCH™Baked Bars – which are remarkably high in protein and low in sugar without compromising taste and texture.
"I have always had a passion for fitness," said Robert Irvine. "With such a busy schedule and being on the road for the majority of the year, I have found that protein bars can provide the necessary nutrients for energy, focus and building muscle – but they often require compromising on taste and texture. With FIT CRUNCH™ Baked Bars, I finally have a bar that I want to eat, and what's more, they are ready-to-eat for anyone, whether you are busy and active in your everyday life or are fitness-focused and looking to build muscle."
Available in two flavors, Cookies & Cream and Peanut Butter, FIT CRUNCH™ Baked Bars are the only six-layer baked bars in the world. They deliver 30 grams of the highest quality protein blend, including whey, and other simple ingredients including whey isolate, high protein chocolate and peanut butter – making them a nutritional source of elements the body can really use. Notably low in sugar without compromising taste and texture, each bar has a candy bar crunch with a soft cookie center. FIT CRUNCH™ Baked Bars are an ideal meal replacement option for athletes as well as the everyday person in need of quick, on-the-go nutrition.
To try FIT CRUNCH™ Baked Bars and find out what it means to finally have a craving you can call healthy, visit fitcrunchbars.com.