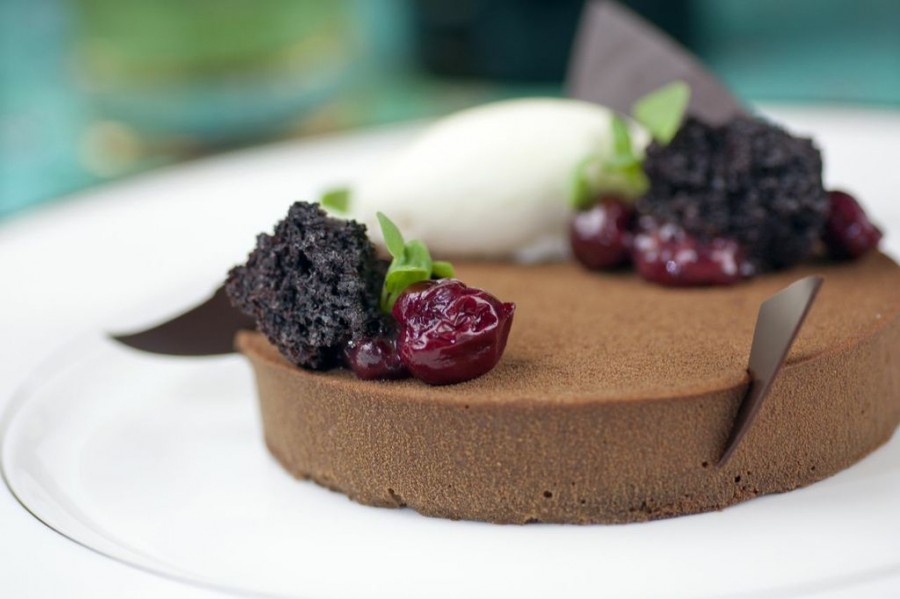 It looks like a dessert dream come true. You may not have a golden statuette at the end of the night, but you can have a delicious dessert on a golden spoon… Caramelia Namelaka Devil's Food Cake, Roasted Cherries, Mascarpone Cream
Suggested wine pairing: 2010 Beaulieu Vineyard® Maestro Collection Napa Valley Port and Muscat de Beaulieu
For Namelaka pudding:
2 cups milk
1 ¾ cup heavy cream
½ cup sugar
4 ½ cups Valrhona Caramelia chocolate
3 gelatin sheets, each
2/3 cup butter
In a pot bring to boil the milk, cream, and sugar.  Pour the hot mix over the egg yolks and whisk.  Put the egg mix back into the pot and cook until 85°C; stir constantly with a rubber spatula.  Once cooked pour over the chocolate; mix together until chocolate is completely combined.  Chill mix down to 45°C; whisk in the butter until completely combined.  Pour chocolate pudding into ramekins and put in refrigerator to chill.
For Devil's Food Cake:
1 1/3 cup warm water
¾ cup cocoa powder
4 ¼ cups sugar
3 cups all purpose flour
2 tablespoons baking soda
2 cups vegetable oil
1 1/3 cup whole eggs
1 ¾ tablespoon vanilla
2 2/3 cups buttermilk
Mix cocoa powder and warm water; stir until smooth texture.  Sift dry ingredients and put in a Kitchen Aid with paddle attachment.  Add oil, eggs, and vanilla while mixing at medium speed.  Add the cocoa powder mix and buttermilk; mix just until combined.  Pour mix into sheet pan and bake at 300°F for about 15-20 minutes.
For Mascarpone Cream:
1 ¾ cups mascarpone cheese
2/3 cup powder sugar
1 ¾ cups cream
Put all ingredients into a bowl in Kitchen Aid with whisk attachment; whisk until thick cream.
For Roasted Cherries:
2 cups cherries, pitted and frozen
¼ cup sugar, raw
Lay cherries in a sheet pan.  Pour raw sugar over the cherries and mix.  Put in the oven at 250°F for 7-9 minutes.  
For Cherry Tapioca:
6 cups water
¾ cup tapioca
3 cups cherry puree
½ cup sugar
Bring to water to boil; pour in the tapioca.  Stir occasionally so tapioca doesn't stick to the bottom of the pot.  Once tapioca becomes translucent, strain; mix with cherry puree and sugar.  Store tapioca mixture in refrigerator and let rest for 2 hours.
To Serve:
Create pudding bed on plate. Cut pieces of the devil's food cake and place on top of the pudding.  Put a little of the cherry tapioca on the side and put a few pieces of the roasted cherries.  Garnish with a dollop of the mascarpone cream.