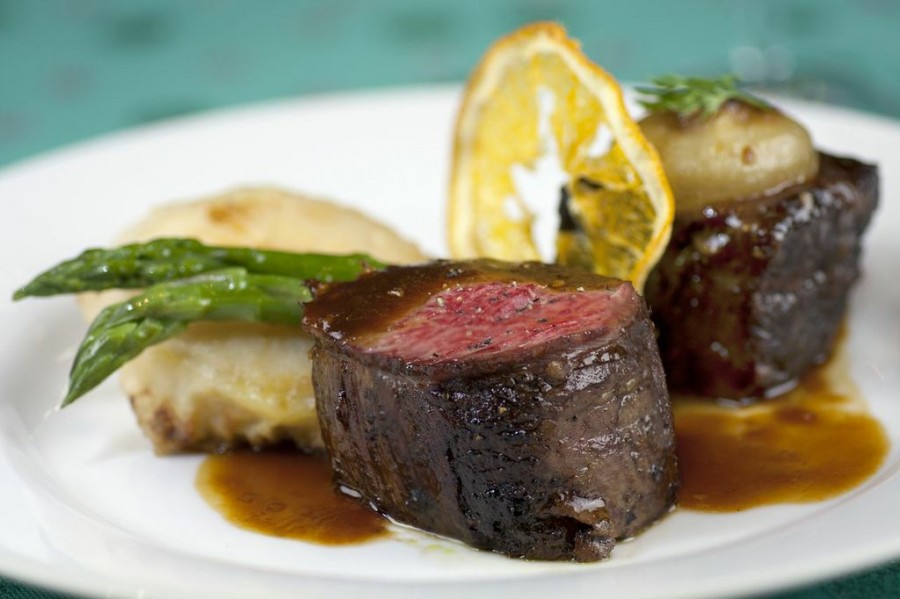 And now for the main course to serve at your prestigious Emmy party…. Beef Filet Mignon, Red Wine Braised Short Rib, Cippollini Onion, Potato-Pear Gratin, Asparagus
Suggested wine pairing: 2009 Beaulieu Vineyard® Georges de Latour Private Reserve Cabernet Sauvignon
4 Servings
1 pound beef tenderloin
1 pound boneless beef short rib
2 carrots, sliced
1 onion, sliced
2 branch thyme
2 cloves garlic, whole
2 cups beef or chicken broth
4 cippollini onions
8 large spears of asparagus, 5 inches long
2 russet potatoes
1 tablespoon garlic, minced
½ cup cream
1 tablespoon olive oil
3 anjou pears
4 leaves feuille d'brick dough (appropriate alternative is filo dough)
2 ounces mild blue cheese
1 orange
¼ cup sugar
4 tablespoons onion, finely chopped
1 clove garlic, smashed
1 cup red wine
7 tablespoons unsalted butter
1 teaspoon dijon mustard
For the Beef:
Roast the filet in 2 ounces sizzling butter in oven, until brown on the outside and a nice rosy color on the inside. (It should read 128°F on a meat thermometer for medium rare). Cut slices into 3 ounce medallions. Remove from heat prior to plating.
For the Short rib:
Season the short rib, and sauté until browned all over; remove from pan. Place carrots and thyme into the same sauté pan; cook with thyme and smashed garlic cloves until tender and caramelized. Transfer to a small braising pot; add short rib and broth. Cook covered in a 350°F oven until tender (about 2 ½ hours). Cut into 3 ounce pieces; strain liquid over top of short ribs.
For the Onion:
Sear peeled cippollini onions in a touch of olive oil until golden brown. Remove from pan and place in airtight foil container with a touch of olive oil and branch of thyme. Cook slowly in 300°F oven (approximately 45 minutes) until tender.
For the Gratin:
Peel potatoes and slice into ¼ inch thick pieces.  Line a small pan with olive oil and minced garlic. Lay potatoes in pan and add cream. Bake in 350°F oven until cooked through (approximately 1 hour); set aside to cool. Peel and slice 2 of the pears; juice remaining pear. Place pear slices and juice in a pan. Cook over low heat, covered, until pears are cooked through; let cool. Line 3 inch circular ring mold with brick pastry; fill mold with potatoes, pear and blue cheese alternating layers. Fold the top over. Repeat to make 4 gratin molds.
For the Red Wine Sauce:
Sauté sliced onion over low heat for 2 minutes. Pour in red wine; add garlic and 1 branch of the thyme. Raise heat and cook until the wine is reduced by half. Remove pan from heat and stir in 7 tablespoons butter. Add mustard and season with salt and pepper.
For the Orange Chip:
Make a light syrup with the sugar and 1 cup of water. Slice orange into 1/8 inch slices; cook in simmering syrup for 30 seconds. Place in a 200°F oven until crisp and translucent (about 2 ½ hours). Remove and let cool.
To Serve:
Sear gratins in 2 ounces of sizzling butter until both sides are crisp and golden; place in 300°F oven until hot. Place beef, short rib, and gratin on the plate, along with the asparagus and onion. Pour red wine sauce on the short rib; garnish with the orange chip and serve.