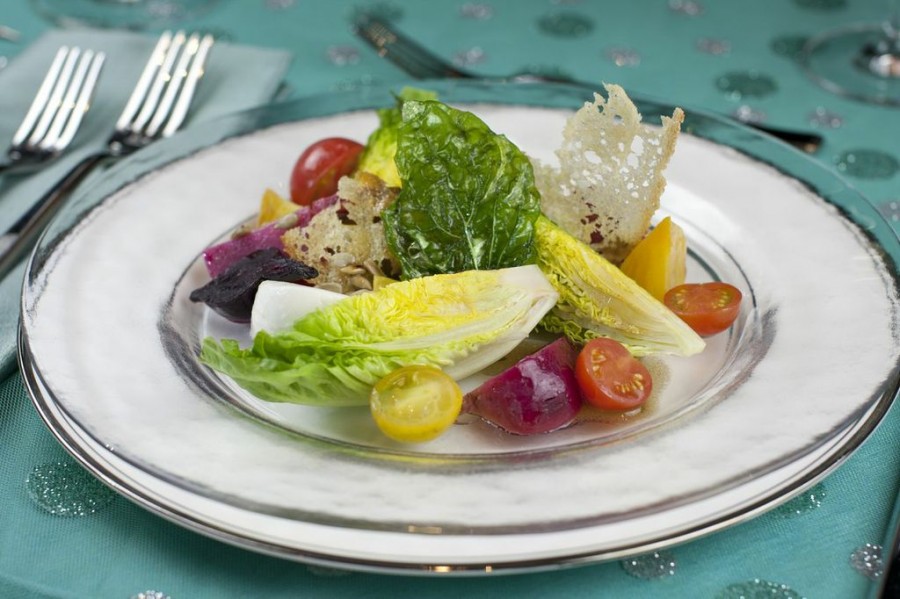 From now until Sunday September 22nd, LATF USA has the exclusive recipes for the 65th Annual Emmy Award – Governor's Ball dinner! Let's start with something light… Little Gem Lettuce Salad
Basil Scented Mozzarella, Marinated Sun-Ripened Tomatoes, Heirloom Baby Beets, Cider Maple Syrup and Sunflower Seeds, Basil Chips, Virgin olive oil
Suggested wine pairing: 2011 Beaulieu Vineyard® Carneros Chardonnay
4 Servings
4 heads little gem lettuce
4 baby pink beets
4 baby red beets
4 tablespoons sherry vinegar
1 cup virgin olive oil
4 tablespoons cider maple syrup
2 tablespoons sunflower seeds
3 baby heirloom tomatoes
1 small loaf ciabatta or other rustic bread
16 leaves fresh basil
12 pieces bocconcini mozzarella
1 teaspoon cracked black pepper
¼ cup balsamic vinegar
¾ cup olive oil
1 teaspoon finely chopped garlic
1 teaspoon brown sugar
Sea salt and fresh ground black pepper to taste
For the Beets:
Roast beets in a 350°F oven until cooked through. Remove from oven and let cool. Peel and cut into quarters; mix together the sherry vinegar, maple syrup and 4 tablespoons of the olive oil. Toss beets in dressing and sprinkle with sunflower seeds.
For the Croutons;
Slice the bread as thinly as possible; drizzle generously with olive oil. Toast in 350°F oven until crisp light golden color.
For the Mozzarella:
Slice 4 leaves of the basil into very fine strips. Cut the bocconcini mozzarella balls in half; season with salt and pepper, basil, and a few drops of olive oil.
For the Tomatoes:
Cut the tomatoes in half; season with salt, pepper, and a few drops of olive oil.
For the Balsamic dressing:
Mix vinegar, sugar, garlic, salt and pepper; whisk in olive oil.
For the Fried Basil Chips:
Heat oil to 375°F and fry remaining basil leaves until crisp (approximately 10 seconds). Season chips lightly with salt.
To serve:
Cut the gem lettuce into quarters lengthwise, and place 4 on each plate.
Place the tomatoes, mozzarella and beets sporadically on salad; top with the croutons and fried basil. Spoon vinaigrette on top, and serve.