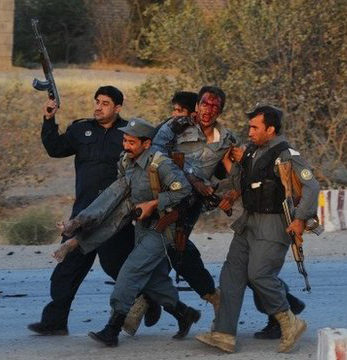 Two suicide bombs were detonated by Taliban militants at the American consulate in the western Afghan city of Herat early Friday. They proceeded to engage in gunfight with security forces surrounding the consulate.
The Associated Press reported that two Afghan security forces were killed, as were five of the attackers, while several other people, including police, were wounded. 
According to FOX news, the U.S. said all its personnel from the consulate in the city of Herat were safe and American forces later moved into the area to secure the site.
U.S. State Department deputy spokeswoman Marie Harf said in a statement that the assault began around 5:30 a.m., when "a truck carrying attackers drove to the front gate, and attackers — possibly firing rocket propelled grenades and assault rifles — starting firing at Afghan forces and security guards on the exterior of the gates. Shortly after, the entire truck exploded, extensively damaging the front gate."