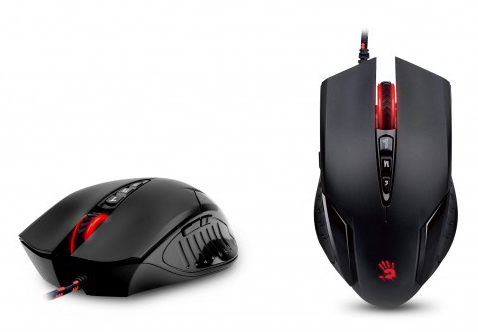 Ever wonder why some people always rack up more headshots than you in multiplayer? Well, I hate to break it to you, but it's probably because they practice a lot more. For anyone wishing to get an instant leg up on the gaming competition without hours upon hours of practice, however, The Bloody Ultra Core3 line of gaming mice has you covered. Designed by A4Tech, who has a quarter century's worth of electronic brilliance behind them, nine years of hard work and tireless research has birthed the "Multi-Core Gun3" line of gaming mice with the Bloody V7 model sitting at the top.
The Multi-Core design has 6 breakthrough innovations with 3 shooting modes that ensure that gamers will win every firefight without breaking a sweat. According to their website, the Bloody gaming mouse is the world's most accurate shooting mouse with auto recoil suppression and concentrated trajectory, which results in an unprecedented high headshot rate. It also offers both software and hardware dual trajectory adjustments. The company's self-proclaimed shooting superiority is well warranted, because with A4Tech's Bloody V7 mouse, no head is too hard to hit!
The biggest draw to The Bloody Ultra Core3 gaming mouse is that it features A4Tech's Pinpoint Optic technology. When playing any FPS online, I always find myself uncontrollably bursting a barrage of bullets whenever I used recoil heavy guns. Mimicking a more real life feel, Pinpoint Optic technology allows users to adjust the shooting rate and recoil-suppression based on individual preferences.
Without any additional software, downloads, or updates, I easily tweaked my shooting rate to fit the way I play.  In hiking the sensitivity up, I found that it became a lot easier to feel the true kick of every gun I played with.
With my old mouse, whenever I played shooters like "Call of Duty" and the recently launched "PayDay 2," I would always end up mindlessly spraying bullets whenever I couldn't hit my mark the first time around. The V7 mouse rendered my typical spray and pray tactic useless. I was able to focus on enemies a lot more accurately and pick them off immediately. 
As for the physical feel of the mouse, the Bloody V7 is definitely a comfortable fit. It is extremely lightweight, slides naturally into the contours of a curved hand, and has a tangle free cord that never gets in the way when playing. With a sleek black and red color finish, it's definitely a visually magnificent piece of technology whenever sweaty fingers aren't groping it.
The Bloody Ultra Core 3 gaming mouse is also equipped with Oscar Macro Editing software, allowing users to edit their own macros using a combination of simple logic commands or by using command combinations, reducing finger fatigue—because let's be honest, no one likes finger fatigue.
At an estimated price of $39.39 (based on Walmart's website), the Bloody V7 mouse is the most cost effective way to bring professional grade computer gaming accessories to your own home.
It is compatible with all Windows XP, Vista, Windows 7, and Windows 8 computers. 
For more information about the Bloody Ultra Core3 gaming line of gaming mice, check out http://www.A4-TECH.us.
By David Morris