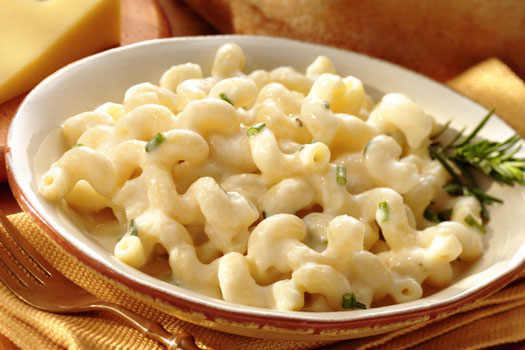 "Truffle" is the 'in' ingredient in the foodie world today. Truffle fries, truffle chicken, truffle everything! And why not? It's delicious. About.com's American Food section brings us a delectable recipe for our very own truffle macaroni… You can find your truffle oil at gourmet shops and most high-end grocery stores.
What To Get:
1/2 lb dried cavatappi or elbow macaroni pasta (cooked according to instructions on box)
3 tbsp unsalted butter
1/4 cup all-purpose flour
3 cups whole milk
1/4 cup all-purpose flour
2 cups (8 oz) Sargento® Artisan Blends – shredded swiss cheese
1/4 cup chopped fresh herbs (chives and rosemary)
2 tsp white truffle oil or shaved black truffle
salt and freshly ground black pepper
How To Make It:
Add butter to a saucepan over medium heat, and cook until the butter begins to foam and bubble. Add the flour and stir for about 1 minute. Slowly pour in the milk, whisking continuously until all the milk has been incorporated and the sauce begins to thicken. Make sure that there are no lumps in the sauce. Pass the sauce through a fine sieve if needed. This process should take 5 to 7 minutes.
Remove the pan from the heat and add the cheese, mixing until it has completely melted. Add the fresh herbs and truffle oil. Season to taste, with salt and pepper. Add the cooked and still warm pasta to the cheese sauce. Divide evenly among 4 bowls and shave the black truffle over the pasta, if desired. Serve immediately.