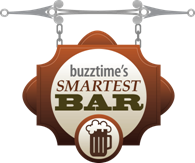 Buffalo Wild Wings North Rock in Wichita will now be known for more than wings, beer and sports. After outscoring 3,300 other bars across US and Canada in bar trivia, the sports bar will be remembered for one other thing: being the Smartest Bar in North America.
After surviving multiple rounds since April in Buzztime's 2013 Smartest Bar competition, BWW trailed only two-time defending champion The Mezzanine Lounge in Houston, Texas heading into the championship round.
And this past Monday, after the one-hour final, its top five players' average scores proved to be the best of the best against the 75 other remaining finalists, including the heavily-favored reigning champ.
Buffalo Wild Wings North Rock will receive a championship trophy, banner and $500 in cash for winning the title of Buzztime's Smartest Bar.
To determine the Smartest Bar, Buzztime, a leading bar and restaurant entertainment platform, each year challenges its vast network of thousands of bar and restaurant customers in the US and Canada to compete head-to-head answering sports, art, history and pop culture bar trivia questions.