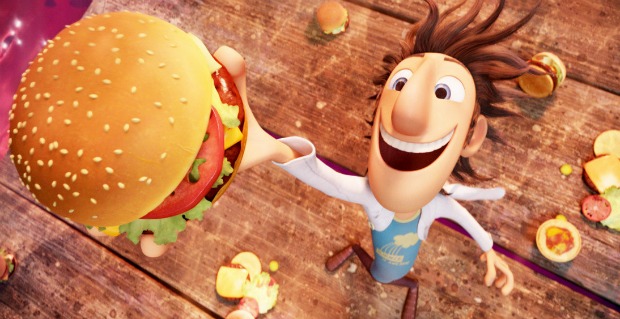 Inventor Flint Lockwood, the star of Sony Pictures Animation's highly anticipated animated feature Cloudy with a Chance of Meatballs 2, has a whole new way for moviegoers to meet his delicious co-stars before the movie hits theaters everywhere on September 27.  Beginning tomorrow, the fun "foodimal" stars of the film will be available – in healthy and tasty lunch-sized portions – in the Cloudy with a Chance of Meatballs 2 foodimobile tour!
Beginning tomorrow in Salt Lake City and Miami, two film-themed food trucks will be visiting family-friendly destinations across the country, bringing tacodiles, hippotatomuses, fruit cockatiels, subwhales, watermelophants, Barry (he's a strawberry), pickles, carrots, and celery to hungry moviegoers. The food, which is provided by Ortega Mexican Foods and promotional partners on the film, including SUBWAY® restaurants, California Giant Berry Farms, Cal-Organic Farms, Duda Farm Fresh Foods, Grimmway Farms, and the National Watermelon Promotion Board, will be served in lunch boxes featuring foodimal characters, and visitors will also walk away with recipe cards explaining how to make foodimals at home.  The tour goes through the opening weekend of the film. 
Audiences in need of food with 'tude can track the trucks' progress and find out when a truck will be nearby by visiting www.Cloudy2FoodTrucks.com or following the trucks on Twitter @foodimobiles.