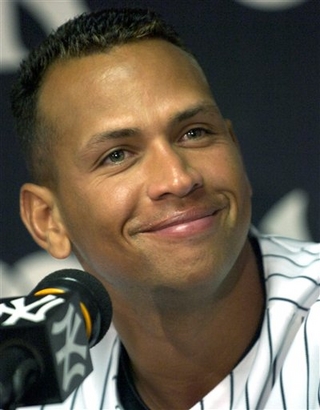 The MLB is threatening to kick Alex Rodriguez out of the game of baseball for life unless the New York Yankees all-star decides to give up fighting against the lengthy suspension pointed at him for his role in the sport's latest drug scandal. This news comes Wednesday, from The Associated Press and a person close to the story who is acting on condition of anonymity.  
It should also be noted, The New York Daily News reported that eight players other than Rodriguez were in line for suspensions, and all have been offered a chance to accept a 50-game ban if they don't appeal. By accepting this lengthy suspension, each of the guilty players would be able to return for the start of the 2014 season. 
Baseball's highest-paid athlete, Alex Rodriguez, is standing front and center in the controversy.  He is also one of the biggest links between the MLB and the now defunct Florida clinic that was selling illegal performance enhancing drugs to athletes. 
Proving that here's nothing quite like a good 'ol fashioned witch hunt, something Americans have always been good at, it seems like there is no hope for mega star A-Rod. Even if he is given another shot at the MLB, his name has forever been marred by this incident. Instead of giving the former superstar his day in court, it looks like he will be effectually burned at the stake by this 50 game suspension.