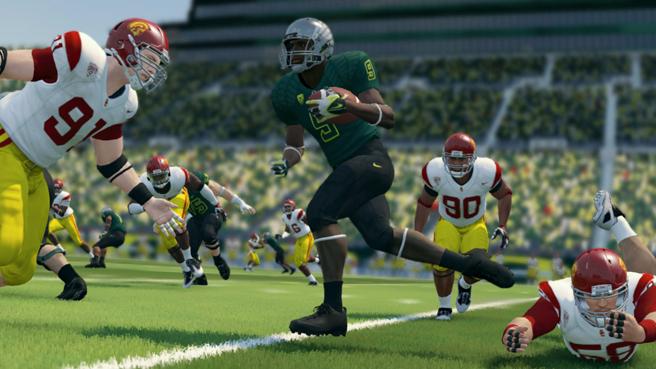 EA Sports brings the sights, sounds, and feel of authentic collegiate football action to life with "NCAA 14;" it's just too bad they weren't able to fit in the taste and smell of the pre-game tailgate as well. By introducing the completely revamped Infinity Engine 2, adding personal touches to every school in the game, and making their Dynasty Mode and Ultimate Team deeper than ever, the latest addition to the long-running NCAA franchise will more than satisfy both die hard and casual football fans.
Last year's "Madden NFL 13" brought BioWare's Infinity Engine to the realm of sports simulators. It was the first time players were able to experience real time, fully organic outcomes to every collision, every reaction, and every play as if it were actually happening in a real game.  With the Infinity Engine 2, EA and BioWare have fixed all of the erratic, negative aspects of the original game mechanic and introduce a new version that pushes the boundaries of what to expect out of a current console sports game. With "NCAA '14," no two tackles will ever look the same, no throw will ever be exactly like another, and every fumble will be unpredictable.  For a console cycle that is coming to an end, EA's Infinity Engine 2 expertly bridges the gap between what to expect out of current gen systems and what to look forward to with the Xbox One and PS4.
As for school spirit, loyal alumni and steadfast fans should be even more eager to attain home field advantage this year, as "NCAA 14" has brand new pre-game vignettes for each team in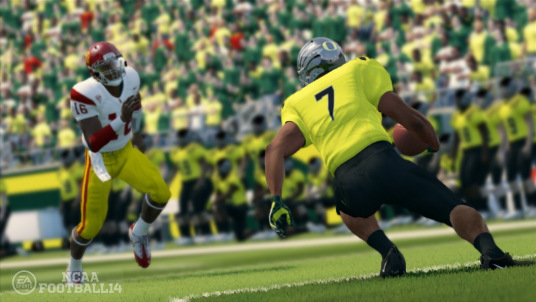 the game. Text swipes, voice over commentary, and school specific fight songs suck players into the visceral game day atmosphere like never before. Additional theme songs, school chants, and marching band music help maintain this sensation throughout all four quarters.
For fans seeking a football experience deeper than exhibition matches against friends, EA brings back fan favorites: Ultimate Team and Dynasty Mode. This year's Ultimate Team truly lives up to its name, allowing devoted fans the ability to assemble rosters out of 1,400 former college football greats at launch, with more surely to be added as DLC (Downloadable Content)later on.
In "NCAA 14's" Dynasty Mode, players continue to have complete control over their school's football program. Immersive draft analysis powered by the introduction of Coach Skills and Power Recruiting, make this year's Dynasty Mode an incredibly realistic, albeit dizzying experience. These two new features allow players to upgrade their coaching staff in 18 distinct ways. With such an expansive list of upgrades, Dynasty Mode definitely takes some time to master. Once the player learns the difference between in-game upgrades like Antifreeze (An Icing The Kicker Upgrade) and Clean Laundry (A Penalty Flag Calling Upgrade), however, he/she is rewarded with the most realistic coaching experience I've ever played in a video game.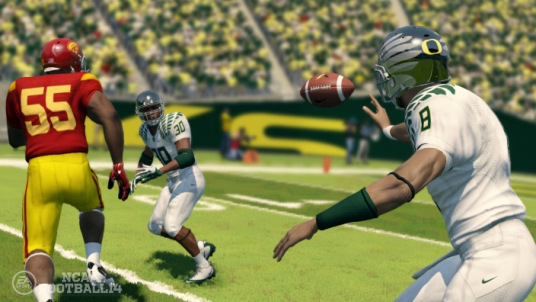 And isn't that what it's all about? More than anything, aren't NCAA games supposed to let loyal college fans square off to see if they can lead their school's team to victory better than the guy that actually gets to do it for a living? With "NCAA 14," EA succeeds in bringing players as close to coaching and playing in a real college football game without all of the concussions and long road trips. And for that, it is well worth upgrading from last year's title.  
"NCAA 14" launches for the Xbox 360 and PS3 on July 9th. 
By David Morris