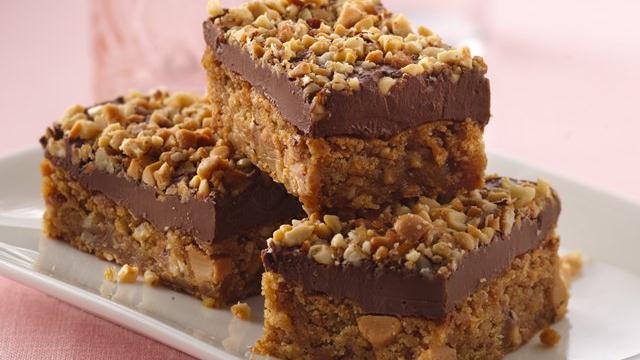 Recipe4Living.com has your answer to those sweet cravings. This one is for the peanut butter lovers of the world. Here is Aunt Susie's Peanut Butter Crunch Bites..
What To Get:
½ C. all-purpose flour

½ C. whole wheat/white flour

¼ C. rolled oats

1 Tbs. wheat germ

2 tsp. chia seeds

½ tsp. salt

1/3 C. peanut butter

1/3 C. light brown sugar

3 Tbs. vegetable oil

1 lg. egg white

1 oz. bittersweet chocolate melted
What To Do:
Preheat oven to 350 degrees. Cover a 9x13inch-baking dish with foil. Leaving 1 inch of foil over the sides. Spray with non-stick cooking spray. Mix together the flour, oats, wheat germ, chia seeds, salt and cinnamon in a medium bowl. Mix the peanut butter, brown sugar, vegetable oil, and egg white in a different medium bowl. Beat with an electric mixer until smooth. Add the flour mixture and continue to beat until well combined. Smooth the dough out in the foiled dish. Bake for about 25-30 minutes and let cool. Pour chocolate over the mixture and let harden. Break the cookie sheet into pieces and enjoy.