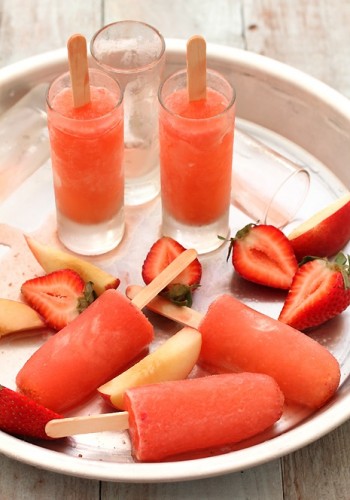 This summer you can spice up your sweet snack. Why not combine your cocktail with your dessert? Recipe4Living.com gives us the run down on how to make your own strawberry peach popsicles!
What To Get:
10 strawberries, pureed
2 oz. peach syrup
1/2 C. peaches, sliced
1 C. water
1 C. sugar
12 oz. tonic water
5 oz. vodka
What To Do:
Mix strawberry puree with 2 oz. of vodka.
Place three teaspoons of strawberry mixture in the bottom of a popsicle mold.
Stir together the peach syrup and tonic water. Add 3 oz. of vodka and stir.
Pour peach and vodka mixture over strawberry mixture and stir to combine.
Freeze for about 2 hours. Insert popsicle sticks and let freeze overnight.
To make the peach syrup: Wash, peel, and pit peaches. Place peaches in a blender or food processor and process until peaches are pureed. Place water, sugar and peach puree in a pot and bring to a boil and continue to boil for 5 minutes.