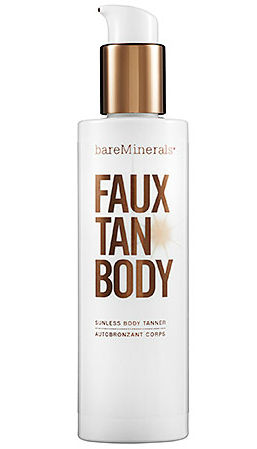 Better than the real thing, bareMinerals brings us a sunless tanner that instantly delivers an all-over bronze glow that develops into a golden, natural-looking tan. Look like you've spent a day at the beach without exposure to the sun's harmful rays.
A naturally-derived mineral copper complex prolongs the tanning effects, while aloe vera and vegetable-derived emollients provide hydration so skin feels soft and smooth.
• The amber tinted formula allows for a streak-free application while hydrating and protecting the skin with aloe vera and vegetable-derived emollients
• Works within hours of applying
• Formulated without parabens and artificial oils
Application:
1. Before applying Faux Tan Body, it's best to prep your skin. While showering, exfoliate all over your body to provide the smoothest surface to glide the sunless tanner over.
2. Apply Faux Tan Body evenly on dry skin from the shoulders down. You see the amber color as you're applying it, so you know exactly where it goes, or if you've missed a spot. Just be sure to apply the tanner more lightly along crease-prone areas, like behind the knees.
3. Wash your hands with soap and water immediately after use to avoid discoloring your palms. Allow application to dry for several minutes before dressing—then show off your new golden bronze glow.
bareMinerals boutiques and www.bareMinerals.com
Also available at www.Sephora.com
Price: $26.00