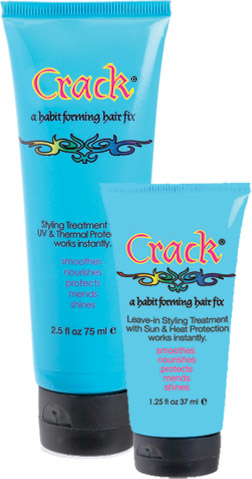 Protect your hair this summer and try Crack™. It's a unique multi-tasking leave in treatment AND styling aid in one, that instantly transforms, keratin-depleted, stressed, frizzy, curly hair to a sleek, smooth, healthy, shiny dimension.
Sophisticated micro proteins and power peptides infuse deep into the hair cuticle and encase the hair follicle with a keratinous bond, to promote healing, block the effects of humidity and eliminate up to 95% frizz and curl, leaving hair smooth, shiny and luxurious.
Instantly penetrates deep into the hair cortex, to strengthen, repair and protect stressed, dry and mature hair from the inside – out. Increased elasticity and strength to keratin deprived hair. Provides immediate protection from the sun, Thermal styling, Chlorine and other chemicals. Lightweight with no greasy build up.
Pricing: 1.25 oz SRP $12.00 – 2.50 oz SRP $20.00
CRACK™ is available at www.Ulta.com.