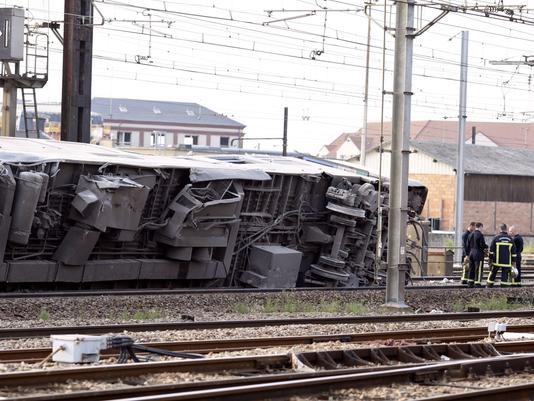 Photo Courtesy of Kenzo Tribouillard, AFP/Getty Images
Seven people are believed to be dead and dozens injured after a passenger train in Paris skid off its rails on Friday. The train cars slammed into each other and overturned. 
The head of the SNCF rail authority is calling this a "catastrophe." Investigators are currently seeking the cause for the crash. 
The SNCF said the train was carrying some 385 passengers when it derailed Friday evening at 5:15 p.m. and crashed into the station at Bretigny-sur-Orge, some 12 miles south of Paris. The train was headed from Paris to Limoges.
As reported by USA Today, a passenger speaking on France's BFM television said the train was going at a normal speed and was not meant to stop at Bretigny-sur-Orge. He described children unattended in the chaotic aftermath. He said there are swarms of emergency workers at the scene.
Two train cars, cars number 3 and 4, initially derailed, then knocked the other cars off the track, SNCF chief Guillaume Pepy said. "Some cars simply derailed, others are leaning, others fell over," he said.