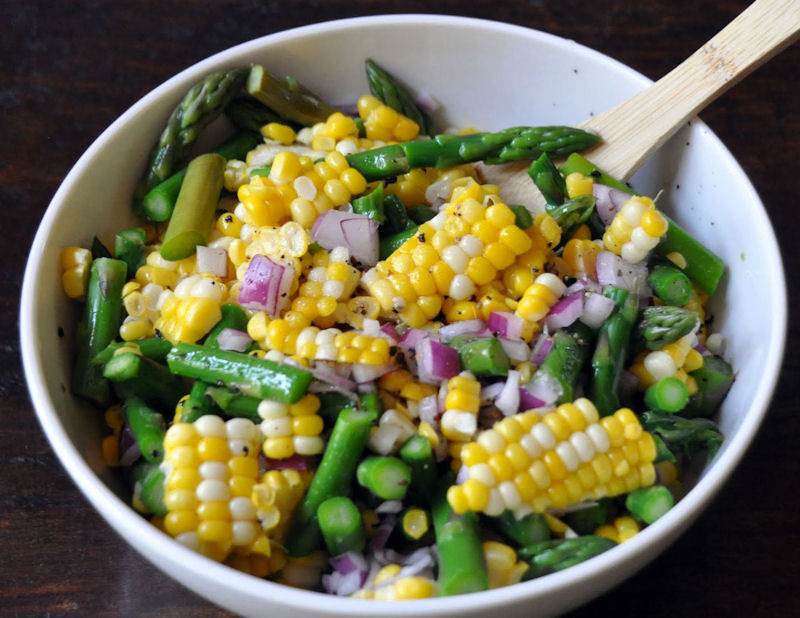 Recipe4living.com is our savior when it comes to healthy recipes! Most everyone is heading to a BBQ bash for July 4th.. or maybe even hosting their own. We gathered 2 healthy sides that will impress the guests:
First up… Corn and Asparagus Salad!
What to get:
1. Fill a large pot with water and bring it to a boil. Add salt to boiling water.
2. Place corn into pot and cook for 5 minutes, or until corn turns bright yellow. Remove from water; set aside.
3. In the same pot, add cut asparagus and cook until tender (about 2 minutes). Remove from pot; set aside.
4. Once the corn has cooled, use a sharp knife and remove the kernels. Place kernels and asparagus pieces into a large bowl.
5. In a smaller bowl whisk together, herbs, olive oil, lemon juice, honey, vinegar salt and pepper.
6. Pour the herb mixture over the corn and asparagus. Mix together. Chill until ready to serve.
Next up… Bacon Stuffed Mushrooms
What to get:
1 pound whole Mushrooms, white, raw

6 Pork, cured, bacon slices, raw

0.5 cup, chopped Onions, raw

4 oz Cheese spread, cream cheese base.
What to do:
Clean mushrooms, remove and chop stems. Set aside.

Fry bacon in a skillet. Remove with a slotted spoon and set on paper towel to drain. In bacon drippings, saute onion and chopped mushroom stems until tender; drain.

Soften cream cheese. then blend in cooked bacon and vegetables. Press mixture into mushroom caps, mounding it a bit. Place in a dish and bake, uncovered, 20 to 25 minutes at 325 degrees.

Makes about 2 1/2 dozen stuffed mushrooms.