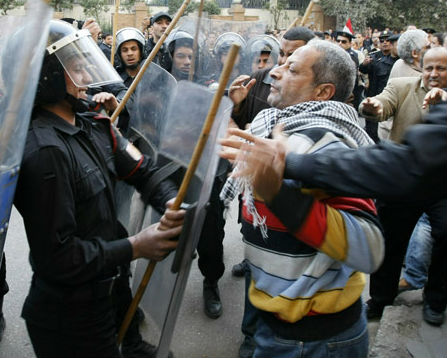 Just as most predicted, the protests in Egypt against President Mohamed Morsi have erupted into increased violence resulting in deaths.
According to reports, at least one demonstrator was killed Friday in clashes between supporters of Egypt's ousted president, Mohamed Morsi, and security forces outside the headquarters of the Republican Guard.
Tens of thousands rallied in Cairo's Nasr City section to protest the removal of Morsi in a military coup on Wednesday following massive public protests against his leadership. Now there is a clear divide between those who wish for Morsi to exit his leadership position and those who support the Egyptian president.
Morsi is reported to be under military arrest at a Republican Guard facility. Video images show a demonstrator in a gray T-shirt running to a barbed-wire fence around the building and then collapsing after shots were fired. Although only one death is confirmed, an ambulance medic said he saw several people dead of gunshot wounds but couldn't confirm the number.