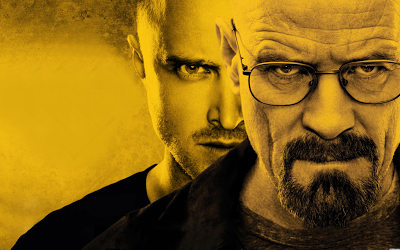 If you are a New York City denizen, The Museum of the Moving Image is set to present "From Mr. Chips to Scarface: Walter White's Transformation in Breaking Bad," an exhibit featuring costumes, props, and video material from the highly acclaimed AMC television series. The exhibit will open on July 26, 2013 in the Museum's core exhibition Behind the Screen, and will be on view through October 27. On Sunday, July 28, the Museum will present Making Bad: An Evening with Vince Gilligan, Breaking Bad's creator— a special program featuring video clips about the evolution of the show and White's character. 
Among the objects on view are several costumes worn by Cranston: the yellow Oxford shirt and khaki pants typical of White's daily wear; the black pork pie hat, black jacket and pants, and green shirt favored by White's alias, Heisenberg; the briefs worn by White during his first methamphetamine-making session, and the hazmat suit, gas mask, apron, and boots used in subsequent "cooking" scenes. Props include those relating to White's cancer treatment—pharmaceuticals, PET scan, strands of loose hair (the result of his chemotherapy)—as well as objects featured in pivotal scenes in the series, including the pink teddy bear and Walt Whitman's Leaves of Grass. Also on view will be selected clips from the series, and behind-the-scenes footage. 

 Advance tickets for the event are available online at movingimage.us or by calling 718 777 6800.