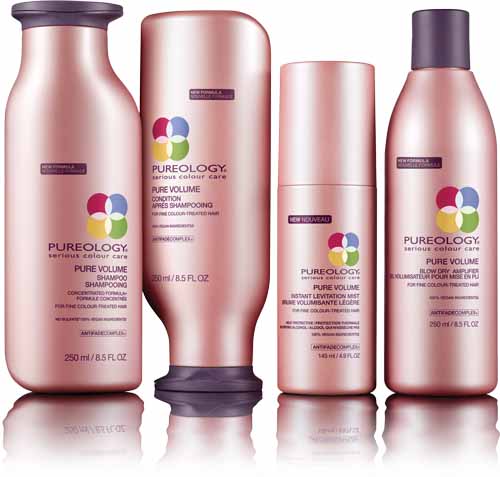 Pureology has reformulated its Pure Volume system with the addition of NEW Instant Levitation Mist, a breakthrough heat-protective spray that weightlessly elevates fine colour-treated hair for 24 hours of magnificent volume.
The new Pure Volume system has lighter-weight formulas that maximize volume for fine, colour-treated hair. It features Pureology's AntiFadeComplex® to neutralize free radical damage and maximize colour retention.  All four products deliver long-lasting volume through a 3-prong approach to maximizing volume:
SHAMPOO
Weightlessly cleanse and elevate fine colour-treated hair with this concentrated volumizing shampoo. ZeroSulfate formula with the exclusive AntiFadeComplex®.
CONDITION
Feather-light conditioning formula replenishes hair and magnifies volume.
BLOW DRY AMPLIFIER
Formulated with fortifying wheat protein and eucalyptus to ease blow-drying while infusing hair with extra volume.
Pureology Pure Volume Shampoo $27.00 (8.5oz)
Pureology Pure Volume Condition $29.00 (8.5oz)
NEW! Pureology Pure Volume Instant Levitation Mist $26.00 (5 oz.)
Pureology Pure Volume Blow Dry Amplifier $22.00 (8.5 oz.