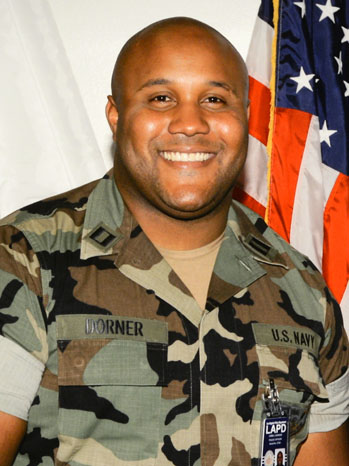 Amidst growing speculation in Hollywood, Los Angeles-based production company Noble Vision Pictures has announced they have given a greenlight to a film based on the events surrounding Christopher Dorner titled "The Manifesto."
The ex-LAPD officer's bloody rampage captured attention nationwide as media outlets covered the story twenty-four hours a day until Dorner's death in a shootout with police. The events leading up to the rampage are under official investigation with the LAPD and are the subject of conspiracy theorists across the country.
The film will be shot through the eyes of a young journalist trying to stay ahead of the police in his search for the truth. Research is underway as the producers begin an exhaustive study of the documents from the case and will be interviewing all of the parties involved.
"There is no denying that there is still a tremendous amount of interest in this story. Even today, there are blogs and social media sites for those who see him as a man who came undone after an unjust firing, to those on the opposite side of the spectrum who see him as a domestic terrorist," Says Patrick Johnson, the film's Executive Producer. "We have chosen a perspective for the story that will allow viewers to decide for themselves."
Casting and pre-production are currently underway in Los Angeles. The producers anticipate shooting in fall 2013 with a mid-2014 release.