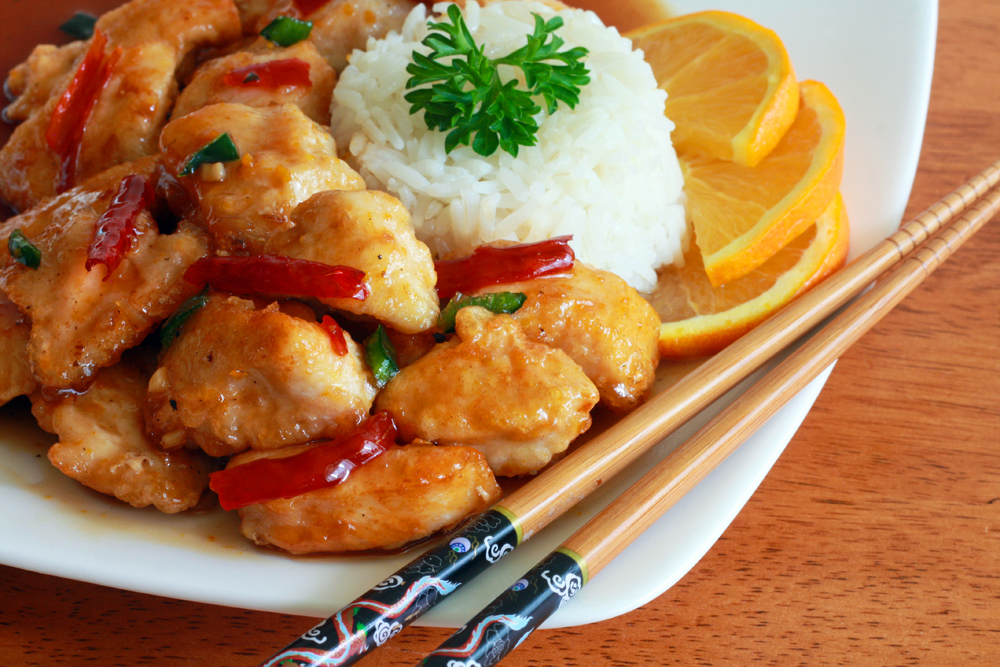 Craving Chinese food take-out? Why not just turn your kitchen into a Chinese restaurant and whip up your own batch of orange chicken…. Recipe4living.com has the perfect recipe:
Ingredients
6 boneless, skinless chicke breasts
1 C. red bell pepper
1 C. sliced carrots
3/4 C. chicken broth

3/4 C. orange juice + 1 Tbs. orange juice

3 Tbs. soy sauce
1 Tbs. brown sugar
1 Tbs. prepared mustard
1/2 tsp. garlic salt

1/2 tsp. crushed red pepper flakes
2 tsp. cornstarch
sliced green onions
cooked rice
Directions
Place chicken in a greased slow cooker. Top with peppers and carrots. Combine broth ingredients in separate bowl: orange juice, soy sauce, brown sugar, mustard, garlic salt, and pepper flakes. Pour over chicken. Cover and cook for 6-7 hours on low. Remove chicken and veggies from slow cooker and keep warm. Take out 1 cup of cooking liquid and bring to a boil in saucepan. Stir together 1 Tbs. of orange juice and the cornstarch, add to boiling sauce. Stir for 2-3 minutes until thick. Pour over the chicken. Top with sliced green onions and serve over cooked rice.