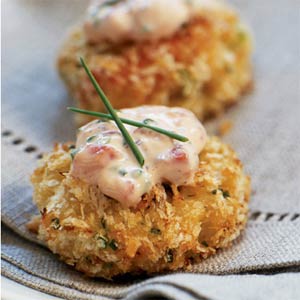 You don't have to dine at that fancy seafood restaurant just to get those delicious crab cakes.
MyDailyMoment.com
brings us a scrumptious crab cake recipe easy enough to make at home:
What To Get: 1
/3 cup of cream cheese, soften
ed, 1/4 cup of crab meat – drained, flaked and cartilage removed, 2 tbsp. green onions, chopped, 2.1 oz. package of mini phyllo tart shells, 1/3 cup of whole berry cranberry sauce
What To Do:
In a small bowl, combine the cream cheese, crab and onions until blended. Place the tart shells on an ungreased baking sheet. Drop 1 tbsp. of crab mixture into each shell. Top each with 1 tsp. of cranberry sauce. Bake at 375 degrees for 12-15 minutes or until heated through.
Prep time 25 minutes, Ready in 25 minutes