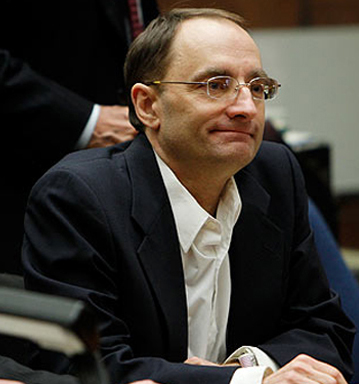 The notorious Rockefeller impostor was found guilty Wednesday of first-degree murder in the death of John Sohus whose bones were found in two bags buried in his mother's backyard. The bags that tied him directly to the murder came from the bookstore at USC, where Christian Gerhartsreiter attended film classes, and the other from the bookstore at University of Wisconsin-Milwaukee, where he had been enrolled in spring 1980.
Gerhartsreiter was tried in a cold case after the disappearance of newlyweds John and Linda Sohus in the early 80's. At the time he was known as Christopher Chichester and suggested he was of blue blood. The prosecution's evidence focused on his strange behavior and many alias' pretending to be from prominent families to gain access to high finance and social circles. Across the country, he had been known as Chris Gehart, Chris Crowe, and Chip Smith inventing new lives for himself. He eventually assumed the name of Clark Rockefeller, a member of the oil and banking family.
Gerhartsreiter was a German immigrant who lived another life long ago, occupied a guest cottage at the home of Sohus' mother in the ritzy suburb of San Marino, California. He was once described by a neighbor as "the creepy tenant" who lived in the cottage owned by John's mother. He joined the church, befriended residents and told some he was a film student.
The San Marino residents didn't connect him with the disappearance of the Sohus couple in 1985, but shortly after they disappeared, so did he.
He married twice. The first time in 1981 to Amy Jersild Duhnke, allegedly so he could obtain his green card. The second time he wed a wealthy woman, Sandra Boss and controlled her money. The couple had a little girl;  Reigh Storrow Mills Rockefeller who would become the center of a bitter divorce in 2007. Sandra accused him of lying when he refused to give proof of identity. Her suspicion was confirmed by the Rockefeller family themselves.   Unfortunately for him, his identity unraveled when he kidnapped their daughter during the custody battle. He became increasingly paranoid when police begin inquiring about him and was arrested on August 3, 2008, in Baltimore, Maryland on charges of kidnapping and assault and battery. The FBI conducted an intensive search to find his true identity and after his finger prints were identified from a document in Gerhartsreiter's immigration file from the early 1980s, his name was revealed.
The publicity around the case of Clark Rockefeller led California authorities to revisit the Sohus disappearance. They realized the man in custody in Boston was not a Rockefeller but was the man who had lived in San Marino decades ago. Serving time for the kidnapping of his daughter in a Boston, Gerhartsreiter was heading for his release when the murder charge hit him. After 25 years, authorities believed they had linked him to the disappearance of John Sohus. No trace of Linda has been found but John's bones were unearthed during excavation of a swimming pool at the San Marino property in 1994. With no clues, the mystery went cold again.
Gerhartsreiter did not show any reaction when the court clerk read the decision convicting him of killing John Sohus.
Sentencing is scheduled for June 28, 2013. Gerhartsreiter faces 25 years to life in prison for the murder conviction, plus two additional years because the jury also found that he personally used a blunt object and a sharp instrument as weapons. It was not a death penalty case.