Something special happened last night at the Wiltern Theatre. The original three that make up the Ben Folds Five returned to Los Angeles after more than 13 years away. As Ben Folds (singer and pianist), Robert Sledge (bass), and Darren Jessee (drums) appeared on the dark stage, they brought the best of the 90's with them. The audience of 20 and 30-somethings were giddy at the mere sight of the trio, fully recognizing just how significant this reunion was.
These types of shows tend to draw the kind of crowd that chooses to comport themselves with a more restrained dignified form of enthusiasm (expressed in modest head bobs of approval), but the crowd last night could hardly contain themselves. Often spontaneously erupting with bursts of appreciation and screams of "I love you Ben" hurled at the stage, the always appearance-focused L.A. let go of any need to seem cool and allowed themselves to be taken by a tidal wave of pure joy and gratitude.
Luckily, BFF made sure that the sincere excitement felt pulsing through the dark venue was not unwarranted. As expected, Folds played masterfully, attacking the keys on his piano, willing the power out of each note, as he played fan favorites such as, "Battle Of Who Could Care Less," "Draw A Crowd," "Landed," "Army," and of course, "Brick." Every stroke of his black and white tiles triggered a memory and an explosion of cheering and dancing, even compelling the normally stoic bartenders to bop around like teenagers at a sock hop. As he messed around on the piano singing ridiculous lyrics like "I don't know what I'm going to sing, so I'll just f***ing bulls***" he still sounded amazing.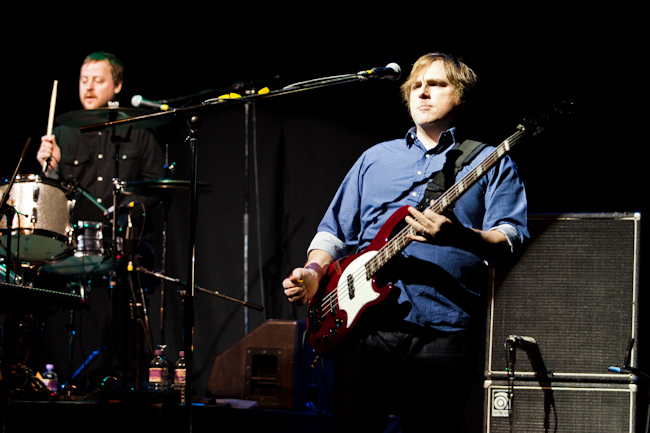 In addition to his artistic genius and penchant for improvisation, Folds has an uncanny knack for fostering an atmosphere of community, somehow making everyone feel that if they shout something he might just engage in a conversation with them (which he has actually been known to do). Often when a singer tells an anecdote before playing a track, while interesting, they can sometimes come across as rehearsed. When Folds stops to tell a story, however, it feels like he is actually talking to you.
This all makes the experience of watching him live feel as though you are taking part in something original. He invents songs out of thin air, feeling inspired by something someone said or just because he feels like it, making each show completely unique. With other artists you can talk to fans about what it was like to see the band live, with Ben Folds you can talk to them about what it was like to see him at The Wiltern, or The House of Blues, or wherever they performed, knowing everyone will have something different to reminisce about.
This performance was specially tailored to the L.A. setting, emphasizing lines about the West Coast, Santa Monica and Los Angeles. This was especially evident when Folds introduced the band's newest single "Do It Anyway," off of their reunion album, "The Sound Of The Life Of The Mind." "Did you know that ¾ of this song was actually made up on the spot right here on this very stage?" he told everyone. "I was talking about a song and I said 'It's not really the kind of tune you can get on top of the piano and shake your ass to,' when someone shouted out 'Do it anyway!' So I just started playing this song." This anecdote is the essence of what it is to see Ben Folds live. You are part of the very special, exceptional moments of a true artist at work. With Folds, you're not just singing along, you're playing along.
This is exactly why, as they screamed for an encore, people were already thinking about how to get tickets to their next show.
By: Darianne Dobbie