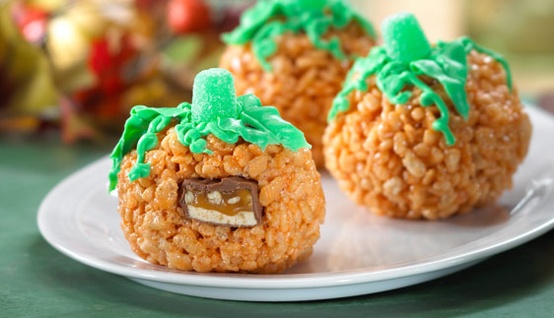 The Halloween party season is here! Instead of bringing the usual bowl of candy, here is a fun and easy recipe for Surprise Pumpkin Treats from Kellogg's Rice Krispies!
INGREDIENTS:
(yields 12 servings)
3 tablespoons butter or margarine
1 package (10 oz., about 40) regular marshmallows -OR- 4 cups miniature marshmallows
Orange Food Coloring
6 cups Kellogg's Rice Krispies cereal
12 MILKY WAY® Brand Minis -OR- 12 3 MUSKETEERS® Brand Minis -OR- 6 Fun Size® Bars*
Canned frosting (green)
12 small green gum drops
DIRECTIONS:
1. In large saucepan melt butter over low heat. Add marshmallows and stir until completely melted. Remove from heat. Tint with orange food coloring.
2. Add Kellogg's Rice Krispies cereal. Stir until well coated.
3. Using ½-cup measuring cup coated with cooking spray, divide warm cereal mixture into 12 portions. Using buttered hands shape each portion into pumpkin shape around one candy piece. Pipe frosting onto each for vines and attach a gumdrop for stem.
Rice Krispies Surprise Pumpkin Treats are just one of several fun holiday-inspired ideas. For more, check out Kellogg's: Pinterest page, RiceKrispies.com or Facebook.