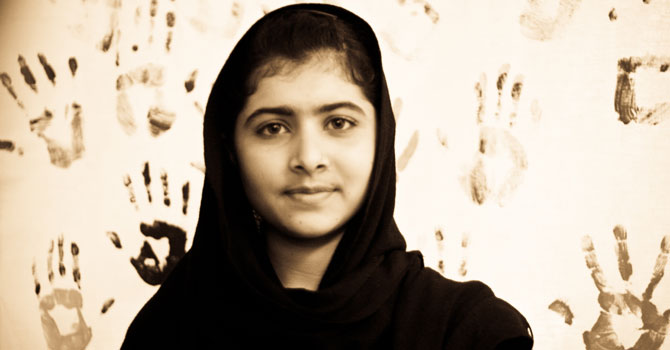 It is appalling to know that in many parts of the world, women young and old have little to no rights and are treated inhumanely. While many have no voice, there are some brave enough to speak out and risk their lives. Now we all know who Malala Yousufrzai is. At 14 years-old, the Pakistani schoolgirl was shot by Taliban gunmen for advocating education for girls. After being struck in both the head and neck, Malala has miraculously survived. While she is in critical condition, there is a sign of hope. She was sent to Queen Elizabeth Hospital in Birmingham, UK today where she will receive further medical attention.
Her courageous actions have inspired a global fight for girls' education through an online community rally. Closer to home, her attack has evoked protests in Mingora, Pakistan over the past several days in a more serious effort to defeat the Taliban.
Malala gained international attention for the first time in 2009 when she wrote a diary blog for BBC, describing what it was like to try to receive an education in her environment. 
In support of Malala, you can sign I Am Malala, an online petition signed by celebrities and leaders, which calls for girls to get better access to education.The petition will be presented to Pakistani President Asif Ali Zardari and United Nations Secretary-General Ban Ki-moon.