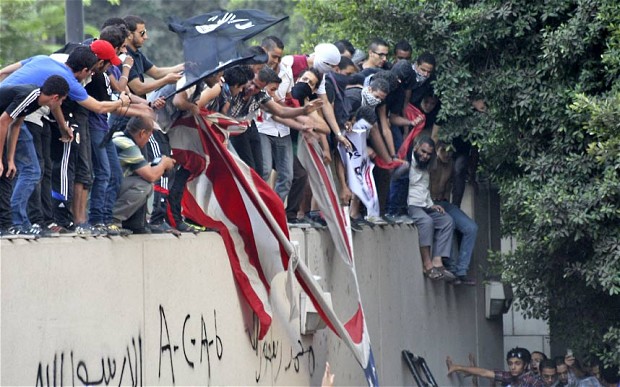 The U.S. has now seen the direct affects of the violence in Libya and Egypt as the people struggle to overcome the turmoil after the upheaval of their authoritarian leaders, Moammar Kadafi and Hosni Mubarak.
Tuesday night, U.S. Ambassador Chris Stevens was killed along with three of his staff members at the U.S. consulate in the eastern city of Benghazi. At the time, they were attempting to evacuate the building after it was attacked  by rocket grenades and open fire. Protestors were irate over a film that ridiculed Islam's Prophet Muhammad, according to Libyan officials. As the attack took place in Benghazi, protestors in Egypt scaled the walls of the U.S. Embassy in Cairo. The American flag was torn down and replaced with a black Islamic banner.
Ambassador Stevens was a 21 year veteran of the Foreign Service and career diplomat who had already served two tours in Libya. He ran the office in Benghazi during the revolt against Kadafi. The second identified American loss was Foreign Service Information Management Officer, Sean Smith.
Secretary of State, Hillary Clinton, released a statement today September 12th, "It is with profound sadness that I share the news of the death of four American personnel in Benghazi, Libya yesterday. Among them were United States Ambassador to Libya Chris Stevens and Foreign Service Information Management Officer, Sean Smith. We are still making next of kin notifications for the other two individuals. Our hearts go out to all their families and colleagues. America's diplomats and development experts stand on the front lines every day for our country. We are honored by the service of each and every one of them."