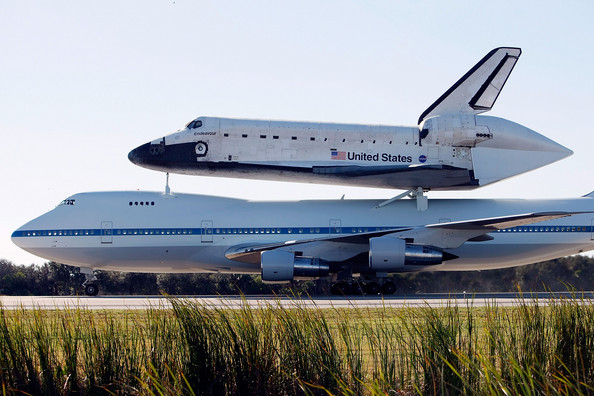 The space shuttle, Endeavour, atop its 747 Shuttle Carrier Aircraft (SCA) departed Houston's Ellington Field at about 7 a.m. CDT Thursday, September 20th, 2012 and landed this afternoon at Los Angeles International Airport (LAX). This was the final flight for the shuttle that took part in 25 space missions. An arrival ceremony will take place before Endeavour is taken off the 747 and transported to its permanent home at the California Science Center next month.
Before landing at LAX, SoCal residents sighted the shuttle in Malibu, The Getty Center, California Science Center, Disneyland, Griffith Park Observatory, The Aquarium of the Pacific, NASA's Jet Propulsion Laboratory, The Queen Mary, Universal Studios, City Hall and Venice Beach as it flew as low as 1,500 feet.
During this exciting time, social media users were encouraged to share their Endeavour sightings using the hashtags #spottheshuttle and #OV105, Endeavour's vehicle designation. Don't miss this great piece of history!
For more information about NASA's transfer of space shuttles to museums, visit:
http://www.nasa.gov/transition
For information about NASA and agency programs, visit: 
http://www.nasa.gov